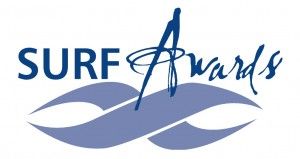 The outcomes of the prestigious 2015 SURF Awards for Best Practice in Community Regeneration were announced tonight at a celebratory presentation event in Glasgow's Radisson Blu Hotel.
Representatives of the six category winning initiatives for 2015 were personally congratulated on their inspiring work by Alex Neil MSP, Scottish Government Cabinet Secretary for Social Justice, Communities and Pensioners' Rights.
The SURF Awards are delivered each year by SURF, an independent network of regeneration organisations, in partnership with the Scottish Government. The purpose is to highlight, celebrate and share excellence and innovation in initiatives addressing physical, social and economic problems in communities across Scotland.
SURF's panel of 24 independent judges are drawn from national bodies and community groups. They carefully assessed 54 2015 SURF Awards applications in five thematic categories. They visited 16 different shortlisted initiatives across the country, from the Borders to the Highlands & Islands, before selecting the following category winners:
Scotland's Most Improved Large Town: Kilmarnock. East Ayrshire Council's holistic Urban Development Plan has created a vibrant town centre for Kilmarnock with restored historic buildings and positive developments in retail, culture, education, housing and tourism.
Scotland's Most Improved Small/Medium Town: Barrhead. East Renfrewshire Council's Barrhead Regeneration Initiative long-term growth strategy has rejuvenated the town centre, which is now well-served with amenities, services, and an improved retail offer.
Large Scale Infrastructure: Ullapool Harbour Infrastructure Enhancement. A successful £19.28m harbour modernisation has secured additional benefits for the local community, including a popular music, arts and exhibitions events space.
Creative Regeneration: Laurieston's 'Open Spaces' (Glasgow). An artist-led strategy that complements a major city housing development by making a diverse set of buildings and open spaces – including railway arches and an iconic church – available for creative temporary uses.
Community Led Regeneration: Helmsdale Affordable Housing Project (Sutherland). A community group successfully created four new family homes in an economically fragile remote Highland village to help address depopulation and decline.
Employability: Wheatley Pledge. An effective initiative that has supported 188 clients of the Wheatley Group housing and social care consortium into high quality jobs and training opportunities with external contractors and suppliers.
The six winning projects demonstrate the value of aligning local place-based improvements with substantial social and economic outcomes.
A special 2015 SURF Awards publication provides in-depth information on all winning projects and a further ten that featured on the category shortlists is available for download:
In congratulating the winners, SURF Chair Pippa Coutts said the real value of the SURF Awards is in celebrating the considerable efforts carried out every day across Scotland to address physical, social and economic problems in urban neighbourhoods and small towns.
The SURF Awards event was attended by over 280 guests from a wide range of public, private, and third sector organisations. Since 2003, the SURF Awards have been delivered by SURF in partnership with the Scottish Government. SURF is grateful for additional category support provided by Architecture + Design Scotland, Creative Scotland, Highlands & Islands Enterprise, RTPI Scotland, PAS, Scotland's Towns Partnership and Skills Development Scotland.