The Commonwealth Orchard is a Scotland wide initiative aiming at helping children, families, schools, community groups, housing associations and developers of housing and public buildings to include fruit trees in the urban landscape. The project involves children and local communities in planting a network of small orchards across Scotland to create a grassroots legacy of the 2014 Commonwealth Games. Here, project director, John Hancox, explains the thinking behind this fruitful enterprise.
What is the Commonwealth Orchard?
On one hand it's about reintroducing fruit trees to urban areas and creating edible places. It's a novel idea – growing your own fruit on trees in the city – but it's not exactly new. It may surprise people to learn that much of what is now the city centre of Glasgow was built on an ancient pear orchard, planted by monks from Glasgow Cathedral around 1100. And the same is true of other Scottish cities. Look at old maps and you'll see the evidence of ancient orchards. And more recently – through the Orchard Streets, and Orchard Roads you can see poignant reminders of a fruitful past.
But the Commonwealth Orchard isn't just about fruit trees. It's really about people. It's people planting fruit trees in public spaces, for the benefit of the wider community. You could say it's about creating fruitful places and people connected by areas of common ground, which they have helped to create. It's about creating fruitful lives.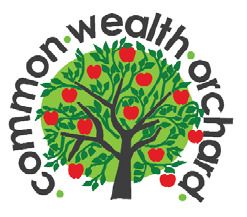 Our experience has been that planting these Commonwealth Orchards can help to draw the community together. It gives people a stake in their local environment, and create links between divided communities. What that means in practice is that we have worked to plant orchards with Catholic and non-denominational schools working together. Or old people and children planting together, or mainstream schools and special needs schools. We have also recently worked with Edinburgh Mela – linking multiethnic community members. While it's not overtly billed as an anti-sectarian or an inclusion project – it does quietly bring people together – and has considerable value for community development.
Our way of working is very hands on. People really value the chance to get their hands dirty and do something practical to make their local environment better. We work to inspire and help local people do it by themselves so they feel a strong sense of ownership.
Reclaiming the meaning
The original concept of Commonwealth dating back to medieval times is worth revisiting. While it now has shades of Empire, the old word Commonwealth was the community looking after itself, and after the poor and sick of the parish. It's a deeply democratic concept of resilient communities supporting their own people. Reclaiming this meaning of Commonwealth and building on that spirit is the surest way to build a fruitful future.
There is also the simple truth that food you grow and pick yourself tastes better and that is an experience everyone should enjoy. If you'd like to help us plant the Commonwealth Orchard, or have suitable sites available, we'd be delighted to discuss how.