Be your own boss – are you interested in developing and managing a holiday letting business on the beautiful island of Gigha?
The community-owned Isle of Gigha is the most southerly and one of the most beautiful of the Hebridean Islands. The Isle of Gigha Heritage Trust is the community organisation that manages the assets of the island on behalf of the community. They are now seeking a new operator for their well-established and profitable holiday cottage business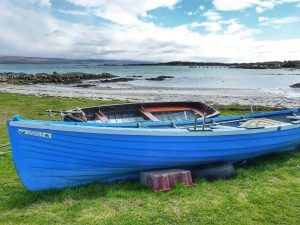 on the island. There are 5 holiday cottages available for lease, giving someone the opportunity to develop the business, support tourism in the beautiful west coast of Scotland, be part of the island community and most importantly, be your own boss!
The cottages have been in community ownership since the buy-out in 2002. The Trust and its subsidiary company own a range of strategic tourism assets across the island, including the Boathouse Restaurant, Gigha Hotel, Achamore Gardens, pontoon and mooring facilities and an Activity Centre. In addition, GTL has secured funding for a Camp and Motorhome site which is currently being developed. The Trust therefore is keen to find an operator that can work with existing tourism businesses and the Trust to develop Gigha as a visitor destination.
The decision to offer the opportunity to lease the business privately is in line with the Trust's development plan which supports the development of private business and increasing the sustainable population of the island.
Ian Wilson, Chair of the Trust said 'This opportunity for someone to manage and develop the holiday cottage business is a great chance for someone to work with the existing businesses on Gigha and the Trust to increase visitor numbers and make sure everyone has a great time when they come to Gigha. The cottages are all in very good condition, in great locations and offer a steady and growing income. It will hopefully be interesting to someone who wants to become their own boss and manage and develop a profitable and successful business in partnership with the Trust. We are really keen to support small businesses to grow and develop on Gigha and this is a great opportunity to do that.'
The Isle of Gigha is situated three miles west of the Kintyre peninsula, less than three hours drive from the city of Glasgow. Gigha is serviced by hourly CalMac 20-minute sailings and has some of the most beautiful and safe beaches on the west coast of Scotland.
To find out more about this exciting opportunity, visit www.gigha.org.uk >About Gigha