Whilst Coronavirus has meant for safety reasons Historic Environment Scotland staffed properties, sites and offices are closed, some core functions can still be delivered through home working. This includes; planning, consents and statutory consultations, the grants programme and advice and support to community groups who explore and care for their heritage. Anyone seeking advice or information from these core functions should continue to contact the organisation as normal.
Access to funding for organisations remains a priority both to sustain operations during lockdown but also to aid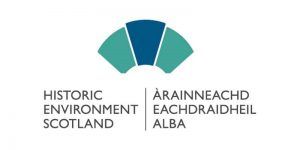 recovery, future innovation and to respond to the new landscape, when we emerge from this crisis. Current grant holders are encouraged to get in contact with their grant manager if they are experiencing cash flow difficulties. Applications are still being accepted under the current Historic Environment Support Fund round (application deadline 30 April 2020) and the Historic Environment Repair Grant round and Coast and Waters Heritage Fund (closing 31 May 2020). It is likely that decisions relating to these rounds may be deferred. Expressions of interest need to be submitted in advance, as usual.
Scotland's past is full of stories of hope in the face of adversity, and of people working together to overcome all kinds of challenges. In these unprecedented times, Historic Environment Scotland has launched a new survey to understand the impacts of this fast-changing situation on the historic environment sector across Scotland. To paint as broad and accurate a picture as possible, please take the time to share your views on the current position and outlook as organisations and businesses within Scotland's historic environment sector. The survey will be open until Thursday 30 April and can be accessed here
Historic Environment Scotland's work going forward will be concentrated in four areas: advising and working with Scottish Government on heritage issues and planning ahead; working with partner organisations across Scotland to respond to this crisis; understanding the impact on heritage organisations and community groups; and developing plans and approaches to support groups and organisations to recover.
The situation is currently evolving, to stay in touch with the latest information and updates from Historic Environment Scotland – https://www.historicenvironment.scot/coronavirus
(Update provided by Historic Environment Scotland)