SURF's Knowledge and Research Associate Edward Harkins attended the Social Investment 2013 Conference on 15 April in Glasgow. He compiled this briefing note for the interest of the SURF network.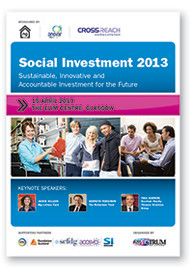 Overview
A very useful event. It was revealing about the extent to which 'social investment' is an arena for debate and diversity in philosophy and approach. There were divergent and at times contrasting views and perspectives. These were articulated quietly and politely, and in a nuanced fashion. The differences were, nevertheless, detectable.
Attendance was not as large as might have been expected for such a topical and significant theme. Nonetheless, there was a useful broad range of backgrounds in the field represented, with a mix of funders and predominantly third sector organisations.
Keynote Presentations
Pat Armstrong C.E. of the Association of Chief Officers of Scottish Voluntary Organisations (ACOSVO) gave a short, concise and helpful introduction in which she described the ACOSVO interests as being about:
How we get the most out of the money available to 'the sector'?

How we increase the size of the pot of money available?
Jackie Killeen C.E. of the Big Lottery Fund in Scotland (BLF) provided an informative presentation on the BLF's recent past and impending investment streams. This was most intriguing when the spending was looked at under different headings (e.g. by spend or by project scale etc.).
There is a £6 million Social Investment strand in the BLFS 2013-2015 budget. The focus will be:
Stimulating the pipeline of 'investable' projects
Developing Investment Readiness

Innovative models of Community Investment

Investment in Research
Jackie Killeen skillfully navigated through what is potentially problematic 'social investment' territory. She managed to plainly raise some 'issues' whilst doing so in a context of BLFS wishing to exchange, learn and collaborate. She was predicted that grants would remain as the core of the work of the third sector. The BLFS, however, was always keenly interested in permutations of risk-sharing being achieved through a mix with financial and commercial interests and means.
She noted that social investment investors looked for specific social returns and explicit financial returns. As such, this approach 'would not be for everyone'. She acknowledged the social investment approach as much more prominent in England. This was perhaps due to:
More (political) momentum behind Payments by Results (PBR) in the public and 3rd sectors;

More intermediaries;

More infrastructure.
The still-present needs in Scotland were described as:
The stimulating of a pipeline of new 'investable' ideas and projects;

Need to support organisations that wish to scale-up but lack the capacity or means to do so. BLFS was especially interested in more (supported) replication of what works and more community-based projects;

There was an outstanding need for more understanding on the SIB model.
Kenneth Ferguson, Director, The Robertson Trust in an authoritative delivery offered a grave and realistic prognosis of the funding climate going forward – the message was essentially that, 'we haven't yet seen the worse of it'. He pointed out that the Scottish Government's 2011 Christie Commission Report predicted early intervention over considerably longer longer-term timescales, and more complex collaborations.
The predictable response of some funders [local authorities?] was to increasingly focus on their own core [Statutory] funding needs rather than on supplementary funding to other bodies. Grant making and grant applicant trustees will face increased complexity and risk on forecasting over the typically longer timescales.
Paradoxically in an era of intended early and preventative investment, there is more demand arising for revenue rather than capital funding.  He described how all of these trends have placed significantly greater pressure on smaller charities. The consequences of that pressure are already being felt.
He gave a detailed and instructive comparison of the various 'social investment' models: Public Social Partnerships (PSPs), Social Impact Bonds (SIBs), Loans etc. His essential messages were:
It is very difficult to come to informed and measurable conclusions about the comparative merits of the models;

There is real and significant cause for concern over the way that new models and proposals are being promoted with an almost complete lack of evidence to demonstrate the efficacy or otherwise of them. The lack of evaluation evidence, or of accepted metrics, was a serious concern when new models were being vigorously promoted.
He suggested that the current issues around all of the social investment models included:
Attributed outcomes

EU procurement Rules

Configurations of the involvement of the public and private sectors, especially on who carries the cost of failure if that risk is realised?

Accommodating the reality that complex issues favour the longer-term solutions;

Evidence (the lack of)

Designing and ensuring that the 'benefit is to the service user'.
Kenneth Ferguson returned to a somber tone in his conclusion – which was that 'currently in Scotland there was no clear route map for going forward' (on social investment).
David Hardie, Head of Venture Philanthropy, Inspiring Scotland (and Senior Corporate Partner at Dundas & Wilson LLP) began by saying the issue that most affected him was, 'can the middle man [the broker] create more value than he extracts form a vehicle?' He described Inspiring Scotland as a 'big player in what is essentially a small and nascent market'. Their approach was to start with a 'social idea' and then seek partners. He also asserted that 'Non-financial support is at the heart of all we do'.
His presentation was largely about the organisational model of Inspiring Scotland support, centred on Performance Advisors dedicated to specific clients. Sixty-four ventures are currently invested in by Inspiring Scotland.
He cited The European Venture Philanthropy Association's definition of 'Venture Philanthropy' – 'a field of philanthropic activity where private equity/venture capital models are applied in the non-profit and charitable sectors.
Investment funds came from investors that sought social change. He stated that an external review had shown that Inspiring Scotland was increasing efficiency in investment and maximising the 'return'. He asserted that this approach was creating more sustainable ventures and delivering outcomes that could change lives.
David Hardie's presentation was marked by a generally sceptical response to his pushing for tax breaks for corporate donators. A number of participants dissented on grounds of ethics, popular acceptability, relevance and efficacy.  The dissenting participants articulated a strong and convincing grasp of the relevant tax and financial knowledge factors.
Jane Newman the C.E. of Social Finance (SF) This presentation focused largely on the promotion of the SIB concept, and by inference of SF. She advised that SF is 'helping Government rethink public service delivery…. and tackling social issues'.
Informal networking over lunch etc. revealed that some participants had been uncomfortable about possible interpretations of some of Jane Newman's opening comments. This was particularly so with her comment that SIBs, unlike other social investment vehicles, 'finance the social issue and "not the organisation"'.
She described the essence of Social Finance's approach as 'We start with the social issue… we have to understand that. Then we look to partners and how to impact'. She noted Kenneth Ferguson's point about co-designing and asserted that 'there is more scope with SIBs [than the other models] on co-designing'
She argued that there was a clear difference between SIB projects under the Department of Work and Pensions Innovation Fund, and the Social Finance fully developed approach. The difference, she argued, was that the Social Finance approach 'started from the social issue'.
A participant asked about the UK Cabinet Office's Social Outcomes Fund, and  'sector blindness' and the lack of guidance on sector eligibility. The questioner made the pointed observation that Social Finance has a significant advisory role in this Fund. Jane Newman suggested that the Cabinet Office would probably put in place a process to 'encourage' Social Enterprise and Third Sector organisations to apply.
Jane Newman explained that Social Finance played a key role in the Peterborough Young Offenders Social Impact Bond Project. It was, subsequently, a surprise for some participants to hear that this first UK SIB pilot at Peterborough prison is two years away from evaluation – yet that is the case study commonly cited by the promoters of SIBs. Jane Newman subsequently provided a detailed illustration on what a SIB approach might achieve in a case study of a real-life emergent child care project – but there seemed insufficient recognition that this must be purely 'illustrative', given the lack of evaluation projects or even proven metrics.
Notwithstanding the lack of an evidence base, Jane Newman stated that the Peterborough model was being 'replicated in the US'. The 'US' was described as soon to be the 'biggest market for product development'.
Ian Marr, C.E. YMCA Scotland in his presentation advised that what we 'now need' is a willingness to think fresh and that 'we're not just in a recession, it's a transition'. He also made the observation there's a difference between being complex and being complicated. That having been said, the two-person presentation format did have aspects that seemed at times both complex and complicated.
The YMCA Scotland pilot with SIBs is based on the Peterborough pilot, and that, as noted earlier, is as yet untested and unproven. There also seemed little new or distinctly SIB-specific in what Ian Marr described as the work on compiling the SIB model and documentation. There was evident good practice in what he described. Little if anything, however, would not apply to virtually any contractual model or vehicle. The aim was, nevertheless, described by supporting presenter Brian Bell of Morton Fraser LLB, as to produce a 'regular package' which was usable elsewhere
Remaining Activity
The presentation on the YMCA Scotland pilot constituted a breakwater in the event. From those presentations onwards, the event was more about specific projects and field activities. We heard several very good, and a few impressive, case studies.
Perhaps a stronger feature of this latter part of the event was the useful and informative presentation on the development of the Jessica Scotland Trust – with a mention of SURF's supporting role along the way. Foundation Scotland (formerly the Scottish Community Foundation) described setting up Trusts for the work of Jessica Scotland and Resilient Scotland. An interesting and potentially valuable feature of this approach, could be where a community organisation was 'distant from the market' – the organisation's involvement with a Trust or Foundation might lend weight and credibility in the eyes of the market institutions.
Discussion and informal networking indicated that participants had noted how, in the words of the speaker,  'the first year of the Jessica Scotland Trust necessarily had to be spent on sorting out their governance and to get going'. There is, therefore, much interest on how matters will now play out in terms of operations, delivery and impact along with community organisations, programmes and projects.
Another strong element in the latter part of the event was the presentation by Paul Bannon of the Scottish Charity Finance Directors Group. The presentation detailed the intricacies of Scottish Charity Law and its operation. The presentation was impressive because the presenter did full justice to what was indeed intricate subject matter – but did so in a concise, coherent and highly accessible way. There was a detectable 'feel' at this part of the event of participants wishing there could have been more of a slot for this presentation and the presenter.
The final plenary and winding-up session was hosted by the ever-ebullient Chick Brodie MSP and Convener of the Holyrood Parliamentary All-Party Social Enterprise Group. His striking chalk-stripe suit and accompanying stylish attire well matched his enthusiastic and motivational style – which was in turn a well-matched ending for this hard-working event.