Our cities, towns and places are in a constant process of change and renewal but, since the early 70s, the process of regeneration in Scotland has been gathering new and sustained momentum.  The development of a concerted approach to regeneration has underpinned a great deal of public and private sector investment as well as being a major factor in many other cross-cutting policy agendas over the past 40 years.
The move away from the comprehensive regional planning of the post-war era coincided with growing architectural interest in the concept of 'city making' and urban design based on more traditional street patterns. In the 1980s in Glasgow, in common with postindustrial revival abroad in cities such as Rotterdam and, in particular, in the IBA project in Berlin, we saw the emergence of post-modern urbanism which was marked by a rediscovery of the importance of the 'city'. The regeneration of Ingram Square in Glasgow's MerchantCity, by architectled developer Kantel, is a good example of urban intensification with a renewed focus on the public realm. The regeneration of existing heritage, the reuse of existing facades, new infill, and greater focus on the importance of the courtyard are hallmarks of the kind of mixed use regeneration which has brought a new community into the heart of Glasgow's city centre. Individually, buildings express their period, but the cohesion of the 'city' fabric and public realm is more important. This emphasis on the public realm has been a key feature in regeneration projects across Scotland and, in Dundee for example, this has been underpinned by a strong emphasis on public art.
Restoring the community fabric
The 'rehabilitation' of many traditional tenemental areas had already begun slightly earlier, and this was led mainly by local community-based housing associations carrying out redevelopment with 'grant' assistance.  The reestablishment of the traditional tenemental form as a valid building typology provided a valuable tool to stitch back the fabric of many communities and, as this work moved on, new build contemporary versions of the traditional tenement began to emerge.  This was the basis on which larger scope regeneration projects such as the Crown Street in the Gorbals were later developed. Crown Street was based on a Piers Gough masterplan which reintroduced a traditional street plan into the area. Within this plan, the tenement was again employed as a valid method of housing as well as a means of 'city making'.
Pioneering communities
The direct involvement of communities was a key feature of the early regeneration projects of the 70s and 80s, and this led to the establishment of new forms of architectural practice in order to respond to demands for technical aid and assistance. The pioneering work of ASSIST Architects was pivotal in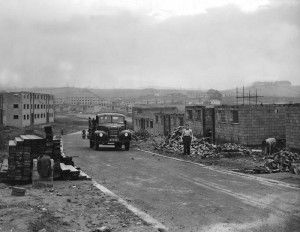 demonstrating the scope for tenements to be repaired and reworked on plan, with basic amenities such as kitchens and internal bathrooms introduced into the floor plans. Community-led regeneration was also a key feature of initiatives to tackle the problems of isolation, lack of social infrastructure and poor quality housing common in many of the post-war peripheral schemes such as Easterhouse, Drumchapel and Wester-Hailes. I was personally involved in two of these initiatives.  In the early 80s I worked within the Wester-Hailes community's own Design Unit where, on meagre resources, a new set of community facilities were developed using and converting reclaimed temporary class room units. I was also involved in a design unit based in Drumchapel in the early 90s, which was one of a number of community run services run under the auspices of the Drumchapel Initiative.
Catalytic Transformation
The large tracts of brownfield derelict land resulting from the decline and closure of traditional industries have provided major opportunities for regeneration, and the rehabilitation and revitalisation of many postindustrial buildings and complexes (such as Stanley Mills in Perth) has been a key design challenge over the past 30 years. From 1994, the availability of capital funding from the Heritage Lottery Fund and the Scottish Arts Council has acted as a catalyst for many projects of this nature, including Richard Murphy's Dundee Contemporary Arts (DCA).  Built on the site of a former garage, DCA has been a major factor in transforming the cultural standing of the city.
In Edinburgh, the success of new interventions in the old town fabric – similar to the concept of 'conservative surgery' promoted by Patrick Geddes in the late 1800s – has brought new life and activity to historic closes. Much of this activity has been focused on the Canongate area on the former brewery site masterplanned by John Hope, culminating in the construction of the Scottish Parliament. There have been many successful examples of this approach from architects like Malcolm Fraser (Dance Base) and Richard Murphy (Fruitmarket Gallery) which provide dramatic contrasts between the historic fabric and new contemporary interventions. Another project which exemplifies the Geddes approach is the Cowgate Under 5s Centre by Allan Murray Architects.
Since devolution in 1999, 'regeneration' has continued to play a significant part in Government policy and strategy. Much of the effort over this period has been channelled through the establishment of 6 Urban Regeneration Companies (URCs) to push forward an holistic approach to regeneration. This approach considers jobs, housing, public space, heritage, public art, education and skills and mixed uses in a coordinated manner. Real progress has been made in the early established URCs in Clydebank,  Craigmillar and Raploch.  Visionary, design-led masterplanning is at the heart of their success. Two of these URCs – Raploch in Stirling and PARC Craigmillar – have been selected as exemplar projects as part of the Government's Scottish Sustainable Communities Initiative (SSCI). The Government has provided significant funding for the regeneration of our town centres – and bringing vacant and derelict land back into productive use contributes to the Government's Purpose of increasing sustainable economic growth. Most recently, the Government launched the Town Centre Regeneration Fund, a new £60m capital fund available to town centres and local high streets from April 2009 to March 2010. By empowering and engaging communities, the talent and creative potential of local people can be realised to deliver successful solutions to local challenges. Three learning networks connect people involved in community regeneration, towns and high streets, or mixed communities to good practice in regeneration. A key issue is the development of the skills and capacity to deliver successful regeneration as well the resources to do so.
A challenging future
Significant regeneration challenges remain. The Danish urbanist Jan Gehl once said that it takes 100 years to make a community – 40 years on from the first tenement rehabs, we have come along way. However, many projects now branded as 'regeneration' provide little more than property development on brownfield land, and the credit crunch has made recent models of public/private partnership much harder to deliver. In addition, we need to address the challenges of climate change and the need to reduce CO2 emissions. Successful sustainable places with mixed use, walkable, neighbourhoods are recognised as helping to deliver other policy benefits, for example, in encouraging healthier lifestyles. What is clear from my own experience over the past 30 years is that regeneration which is not genuinely community based, or well planned and designed, stands a much reduced chance of providing the successful sustainable places to which we all aspire.