In tandem with the publication of the Community Empowerment (Scotland) Bill, the Scottish Government has funded a new website for community groups that launched yesterday.
The 'Communities Channel' website, developed and maintained by the Scottish Community Development Centre (SCDC), provides an overview of the work of a number of prominent community groups and community led regeneration projects across Scotland.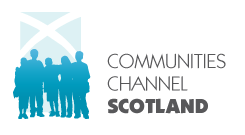 The site also provides regular news updates and information on which agencies community groups that are looking to develop regeneration functions can approach for advice and resources.
Please click on the link below to visit:
Community group members who would like to contribute their own experiences to the Communities Channel website, and other stakeholders that would like to share relevant news or information via the site, can contact Andrew Paterson at SCDC on andrew.paterson@scdc.org.uk or 0141 222 4837.