The Charrette model of bringing urban design experts and local residents together to discuss planning and place-making ideas is being used more and more widely in communities across the world. In this feature for SURF, American land use and community development expert Todd Johnson explains how it is being used to empower people and improve places in the northern state of Wisconsin.
What gives a community its unique identity, sense of place and vitality? A bustling downtown filled with shops, housing and a mix of activities? Clear visual distinction between the country and the city? Ease of movement from one part of the community to another, with inviting paths for walking or biking? What process can communities use to discover and pursue a shared vision of the future?
For years, experts have studied what goes into good community design. Community development educators at the University of Wisconsin-Extension (UW-Extension), who work directly with local officials and citizens, recognised the need for a tested, user-friendly way for communities to identify strategies designed to enhance community life.
State-Wide Ambitions
UW-Extension serves all types of communities – large and small, rural and urban. Educators often work with communities that may not have the resources available to conduct planning and place-making efforts on their own. Up until now, most community place-making work has been conducted in rural settings, although the hope is to expand into urban areas in the future.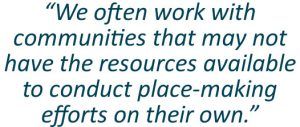 To help communities develop a shared vision of their future, UW-Extension formed the Community Vitality and Place-making Team. The Team consists of state-wide specialists and community-based educators, who develop and conduct place-making  programmes in Wisconsin's small towns. They travel around the state, giving presentations, training local residents in public participation and place-making strategies and techniques, and directly assisting with community efforts.
The Design Wisconsin Team is a sub-group of the Community Vitality and Place-making Team. It uses a Community Design Charrette process first developed in Minnesota, and adapted using University of Wisconsin research and resources.
Wisconsin's Charrette Approach
The three-day charrette involves a team of 18-24 volunteer planning and design professionals, who live and work in the community, to help residents discover a shared vision for the future.
Instead of a week spent gathering public input and revisions with paid consultants, the professional volunteers stay with host families and facilitate an intense barrage of public participation activities. The Charrette begins on a Thursday evening and ends the next Saturday evening with a presentation of 20-30 hand-drawn posters depicting short-, medium-, and long-range strategies for pursuing that shared vision.
UW-Extension educators believe that strong and direct participation from a diverse range of people is an important element of the process. Educators require the communities they work with to include in the Charrette process people from different age groups, socio-economic profiles and demographic backgrounds.
Prior to the Charrette, local UW-Extension educators work with the community to identify under-represented populations and ascertain how best to involve them in the process. In addition, local youths and senior citizens are provided with direct involvement opportunities through a series of planning activities.
Young people are an integral part of the process. Prior to the visit, primary school students produce drawings portraying what they love about their community. High school students conduct a digital photo survey of what they view as the strengths, weaknesses, opportunities and threats facing their community. During the Charrette, the team of professional volunteers conduct focus group sessions over lunch with senior citizens, business owners, and specific demographic groups identified by the community.
The fast-paced nature of the Charrette generates excitement that propels the community into action. Because community members themselves are generating the ideas, the community often takes the initiative to form action teams soon after it concludes.
While the Charrette process itself may appear to move quickly, local UW–Extension educators work with community leaders months before the event to assist with leadership capacity, training, and the logistics of the Charrette itself. Afterwards, educators continue to work with the community as "coaches" to help residents find the necessary resources to realise their shared vision.

Selected Outcomes
UW-Extension's Community Design Team model continues to provide Wisconsin's small towns with a viable alternative to traditional planning that inspires positive change.