The heat of Pittsburgh's high summer reminds me of the equatorial heat of Singapore, where I recently spent time working and visiting friends. Today, I'm thinking about those gifts that make any city bearable, even lovable to me, even when heat, pollution and other challenges interfere. Here are three that come to mind:
Large Concentrations of Trees
As a result of a slow economy, lower tax revenues and bad policies, my neighborhood is fraying around the edges – more buildings look banged up, un-cared for, abandoned even. Yet I look out a second floor window over a lush expanse of trees. In back yards and along the streets they mask a main road and railway line as they spread out across the valley to Frick Park, one of the city's biggest public parks. Trees do their level best for our health and I take comfort in plans to plant thousands more throughout Pittsburgh in the coming years. In Singapore, centrally planned and managed as a Garden City, tropical trees and plants, remnants of the rain forest, create pockets of peace amid the relentless pace and high energy bustle, offering endless moments of joy without discrimination to any who might take note.
Water
Many urban dwellers live near significant bodies of water – rivers, lakes, streams, oceans. Because of Pittsburgh's industrial decline, many more species of fish are now populating the waters of our three rivers, though we can't yet eat them due to the heavy metals they imbibe from the depths. This week, I heard scientists on the radio talk of discovering oil from the BP spill close to the very foundation of the food chain – in plankton – in the Gulf of Mexico, reminding me of how the health of even far away water can support or undermine our health. I enjoy exploring water's place in a City's ecology from a boat.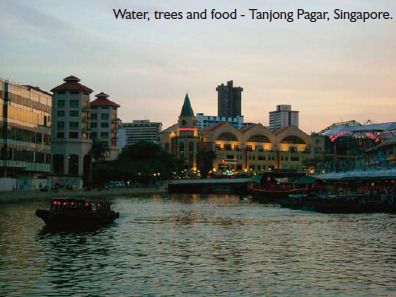 The step from terrra firma to the water leads to a shift in how I view a city. Pittsburgh's neighbourhoods and Singapore's shop- houses and high-rises come to life in altered ways.
Street Food
On the sidewalks of Penn Avenue in Pittsburgh's produce district (known as The Strip) the Mexican grocery owner whips up tortillas and enchiladas for passers-by. Down the street, from carts, one can grab Vietnamese food or a hot dog smothered with onions. In Manhattan's Washington Square, the Dhosa Man's cart is a local institution attracting long lines. But Singapore cannot be topped for the variety of inexpensive tasty dishes available twenty four hours a day all over the city. Chinese, Indian, Indonesian, Malaysian and local blends of multi-cultural cuisines (even "Western Food" – generally deep fried!) are on offer from the entrepreneurs who run the kitchens of the many stalls that make up outdoor Hawker Centres (food courts).
When I notice transient experiences of discovery in any city – taking a new short cut down an alley past a beautiful garden, tasting the best local food, putting my hands on a huge tree preserved amid dense buildings, hearing birds chime during a lull in traffic, spotting angles created by juxtaposed low and high-rise buildings, breathing air on the river – any city, in spite of its challenges, becomes more liveable and more lovable.