Andy Milne, Chief Executive, and Elaine Cooper, Head of Learning and Development, retire from SURF today after many successful years, and tremendous contributions to the organisation's growth, development, relationship-building, and project outputs.
Andy joined SURF in 2003, succeeding Craig McLaren, now of RTPI Scotland, as Chief Executive. Prior to his SURF role, Andy spent 10 years as co-ordinator of the Wester Hailes Representative Council; a community led body frequently cited as a model of community empowerment, representation and service delivery. He found his way into independent community development work via studying architecture and an interest in politics.
Among Andy's many achievements in 18 years with SURF are: growing its cross-sector membership to more than 300 organisations; expanding the prestigious SURF Awards programme, which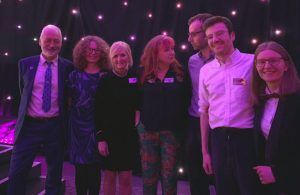 celebrated its 20th anniversary in 2018; developing a highly participative policy influencing function supported by regular SURF Manifestos; establishing the Alliance for Action programme, SURF's flagship place initiative; developing SURF from an organisation with a chief focus on the west of Scotland into a genuinely national body; maintaining and improving the organisation's financial security during the challenging post-2008 and Covid-19 eras; delivering a popular and highly rated events programme, including over-booked Annual Conferences, throughout his tenure; and building close relationships with the key regeneration players in national and local government.
Elaine Cooper joined SURF in 2013, initially working as a consultant to develop SURF's Alliance for Action programme. Her previous life as a journalist, academic and consultant honed extensive research and communication skills that greatly benefited SURF's work in, and focus on, place-based regeneration, poverty & inequality, and health & wellbeing.
Elaine became a full staff member in 2015, and has managed a series of influential projects during her time with SURF, including Alliance for Action engagements and activities in Govan and East Kirkcaldy, SURF's online journal, SURF's Heritage & Creativity Alliance, the SURF Index of Multiple Assets and Aspirations, and SURF's Covid Cross Sector Connector Service. Elaine also authored a wide range of learning reports, including 'Lessons from the Frontline' drawn from a series of SURF special e-bulletins on community resilience during the pandemic, which was cited in 2020 by the Scottish Government's Advisory Group on Economic Recovery in its final recommendations report to Scottish Ministers.
Derek Rankine, SURF Policy Manager said: "SURF has been incredibly fortunate to benefit from Andy's outstanding leadership and Elaine's indescribably wide-ranging skillset for so many years. SURF has visibly gone from strength to strength and improved its performance in many areas, in addition to its general profile, reputation and influence. They will remain in SURF's debt for many years to come and we share our very best wishes for an enjoyable retirement."
Emma Scott, SURF Events, Information and Communications Manager, said: "Andy and Elaine have been a pleasure to work with and will be greatly missed by the staff team and Board, and by our many partner organisations and members. They both have worked incredibly hard for the organisation, and will inspire us to maintain the high standards they have set for SURF as we look to build on their impressive legacies."
SURF contacts that are looking to pass on messages to Andy and Elaine are very welcome to contact Emma (emma@surf-old.local) or Derek (derek@surf-old.local).
As previously reported, the SURF Board have selected Euan Leitch, the current Chief Executive of Built Environment Forum Scotland, as the new Chief Executive following a 2020-21 recruitment process. Euan will be taking up post on Monday 10 May.