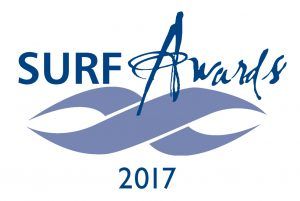 The outcomes of the prestigious 2017 SURF Awards for Best Practice in Community Regeneration were announced tonight (07/12/17) at a celebratory presentation event in Glasgow's Grand Central Hotel.
Representatives of the five category winning initiatives for 2017 were personally congratulated on their inspiring work by the Scottish Government's Housing and Local Government Minister Kevin Stewart MSP.
The SURF Awards are delivered each year by SURF, a regeneration forum with over 260 cross-sector member organisations across Scotland, in partnership with the Scottish Government. The purpose is to highlight, celebrate and share the achievements of initiatives that address physical, social and economic challenges in communities across Scotland.
SURF's panel of 20 independent judges are drawn from national regeneration bodies and community groups. They carefully assessed all of the varied SURF Awards nominations in five thematic categories, visiting 15 different shortlisted initiatives from the Scottish Borders to the Inner Hebrides, before selecting the following category winners:
Creative Regeneration: The Broomhill Project (Greenock). Delivered by RIG Arts, with support from River Clyde Homes, the project connects local residents with artists in creative collaborations, empowering people in the community, to develop their ability and impetus to affect change.
Youth Employability: LinkLiving Step On (Edinburgh, Falkirk & Fife). Provides support to young people seeking employment, education and training by helping identify goals and removing barriers to progress using approaches such as a 'Steps to Resilience' programme.
Community Led Regeneration: Dundee International Women's Centre. DIWC's vision is to provide a space where women and girls from black and minority ethnic communities can achieve their personal goals, reach their full potential, and prosper in their community.
Housing:

Ulva Ferry Housing Project

(Isle of Mull). A remote rural small community in the West Coast of the Isle of Mull are delivering affordable family housing as a basis for tackling depopulation and socio-economic decline.
Scotland's Most Improved Place: Irvine (North Ayrshire). The Irvine Vision is an effort by North Ayrshire Council, in partnership with the local community, to drive a strategic approach to the town's economic and physical development.
The five winning projects all demonstrate the value of a long-term approach to regeneration, with dedicated partners working strategically and inclusively to develop comprehensive plans and deliver real and sustainable benefits for all.
In congratulating the winners, SURF Chair Kate Wimpress said we hope that the talent, creativity, imagination and devotion shown by the 15 shortlisted projects can encourage even more such regeneration activity across Scotland in the future.
The SURF Awards Presentation Dinner was attended by 240 guests from a wide range of public, private, and third sector organisations. Since 2003, the SURF Awards have been delivered by SURF in partnership with the Scottish Government. SURF is also grateful for additional support provided by Architecture + Design Scotland, Creative Scotland, Highlands & Islands Enterprise, Scotland's Towns Partnership and Skills Development Scotland towards the delivery of thematic categories.
Read about all the shortlisted projects in our 2017 SURF Awards SURF Awards Publication 2017
Andy Milne, Chief Executive of SURF, said: "The SURF Awards exists to demonstrate that regeneration does work, that communities and partner agencies can deliver meaningful and sustainable improvements by collaborating intelligently. We hope the inventions profiled provide inspiration and practical learning to everyone involved in Scottish community regeneration"
Kate Wimpress, Chair of SURF: "The 2017 SURF Awards shine a light on the resilience, creativity and ingenuity of those working across the country for the benefit of their communities. Despite operating in very challenging times the calibre and number of entrants this year reflects well the talent and dedication to be found in Scotland's regeneration sector."
Kevin Stewart MSP, Scottish Government Minister for Housing and Local Government: "I am delighted to be involved again in partnership with SURF to celebrate inspiring community regeneration projects and to share these experiences.  The projects shortlisted demonstrate the power of communities to identify and address the priorities that matter most to them; and, to improve the wellbeing of people and communities."
Gary Cameron, Head of Place, Partnerships and Communities at Creative Scotland: "Congratulations to all the nominees and winners of the SURF Awards 2017. The level of ambition and innovation on show further demonstrates why creativity matters to the lives of people, places and communities across Scotland."
Michelle Gibson, SURF Awards judge and Partnership Manager at Skills Development Scotland: "The SURF Awards showcases the best of Scotland, and highlights the real difference that can be made to young people and their communities by working together."
Phil Prentice, SURF Award Sponsor and Chief Officer of Scotland's Town Partnership: "Towns in Scotland are clearly back on the political agenda. The forthcoming SURF awards will include the award for Scotland's Most Improved Place, this will encourage towns, Business Improvement Districts, City neighbourhoods and smaller settlements to showcase just how much progress has been made to get more people involved in regeneration, creativity and a progressive future"