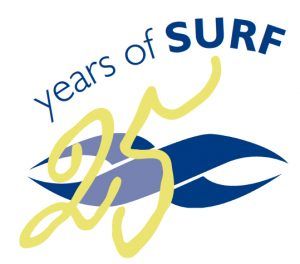 SURF was established in 1992 when senior practitioners in housing, health, employment, planning and other fields decided to establish a dedicated forum to better coordinate their varied regeneration activities.
SURF has grown substantially since then, while remaining true to its two founding principles: that regeneration is a holistic, long-term process involving multiple sectors; and that the intended beneficiaries of any initiative should be meaningfully involved in its design, development and implementation.
Throughout 2017, we will be celebrating our 25 year anniversary. A special debate event will build on recent public discourse to ask: 'Does Regeneration Work?'. Featuring leading regeneration academic Prof Douglas Robertson and leading practitioner Ian Manson of Clyde Gateway, it will take place on Tue 23 May in Glasgow Women's Library.
The outcomes of this debate will help to inform our 2017 Annual Conference – 'What Has Regeneration Ever Done for Us?' – on Thu 31 August in Edinburgh's CoSLA Centre.
Please save the dates and look out for further details in future SURF e-bulletins. You can sign up for our monthly e-bulletins at this link.
Click here to view our 2017 plans in full.