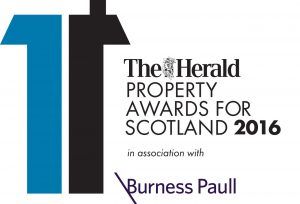 SURF and Scotland's Towns Partnership are supporting the 'Best Regeneration Project' category of the 2016 Herald Property Awards, which is now open for applications.
The awards, supported by law firm Burness Paull LLP, are designed to: "honour the achievements of Scotland's most innovative and successful home and commercial builders, developers, agents and registered social landlords."
The awards are open to all builders and developers in Scotland with properties or development phases completed between June 2015 and June 2016. There are 14 categories of entry, including 'Affordable Housing Development of the Year', 'Best Renovation/Conversion' and 'Best Apartment'.
The 'Best Regeneration Project' category is:
"Open to projects of all sizes and scales as well as both public and private sector companies and partnerships, and example of such projects could include the regeneration of dilapidated buildings, housing schemes or town centres. Entries should show innovative use of brownfield sites as well as architectural design and consideration for green issues. The project should demonstrate value for money and how the area has been revitalised for those who live and work there."
The closing date for applications is Friday 3 June. Please click here to access an entry form and further information.
An independent panel of property experts will assess applications and carry out site visits. The winners will be confirmed at a presentation event in Glasgow's Crown Plaza Hotel on 22 September.