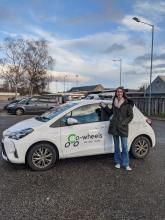 Naomi Mason is the Local Transport Solutions Officer with the Development Trust Association Scotland. At present she is delivering a 1 year Smarter Choices Smarter Places funded project supporting the DTAS membership to deliver their transport initiatives whilst collating the best practice and experience to aid future groups with their plans.
In previous work she has delivered town centre regeneration projects with Aberdeenshire Council, delivered a sustainable transport project with the Huntly Development Trust and has recently completed a masters in ecological economics at the University of Leeds which explored the transition towards an economy orientated towards people and planet, rather than profit.
In this article, she looks at how community-led transport projects can contribute towards creating 20 minute neighbourhoods in a diverse range of communities across Scotland.
---
In the year 2045 will we have met our net zero target and developed a wellbeing economy? One where inequalities have decreased and where we live healthier and more sustainable lives? One step along the pathway to achieve these goals must certainly be the 20-minute neighbourhood concept.
Currently being explored in cities across the globe, 20-minute neighbourhoods encourage us to live more locally and therefore links closely into regeneration efforts, town centre revitalisation, sustainability and community development. Scotland is not unique in its exploration of how 20 minute neighbourhoods might be of societal benefit, however the desire to roll it out across a nation made up of cities, towns, villages, and islands will pose unique challenges from those faced by the international cities currently trying to implement it.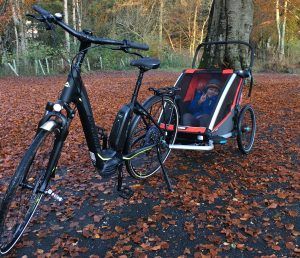 Transport in Scotland currently accounts for over 30% of our carbon emissions, and key mechanisms to deliver carbon savings will come from electrification, but also behavioural change in reducing personal car journeys[1]. Transport, at least in its public form, has suffered in many areas due to privatisation. Less profitable routes are left for the public sector to deliver, and after a decade of austerity policies, the public sector is stretched. This has led to entrenched inequalities over provisioning and access to goods and services. Local solutions already exist through shared and community transport initiatives enabling people to use bikes, minibuses or car clubs to reach services, but in a 20-minute neighbourhood, this will have to be scaled up equally across the country, and ideally merged into mobility hubs which can provide a range of options in one location[2].
Transport is a key feature for 20 minute neighbourhoods. The Scottish Government definition "where people can meet their needs within a 20-minute walk from their house – enabling people to live better, healthier lives and supporting our net zero ambitions."[3] hardly seems possible for our most sparsely populated communities. Instead, I argue that thinking of 20 minute journey times offers a solution which could allow most residents to gain access to a local hub where the 20-minute neighbourhood lies.
In our cities, to be able to access the goods and services we need locally and by foot, efficient transport networks are essential. This will require more active travel opportunities, careful public transport planning and addressing the dominance of cars. In our rural and island locations, public transport will play a role, but it cannot be the only answer as it often is not the most economic, or environmental solution without the density of population to support it. Instead local mapping of catchment areas and utilising Demand Responsive Transport[4], or the Mobility as a Service opportunities[5] may provide the most efficient transport options. There are scope for Peer to Peer car lending schemes as well and of course installing more cycling and walking infrastructure to connect communities easily[6].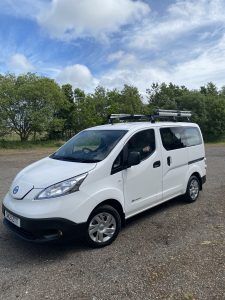 As you may sense, there are many challenges to develop this vision into a reality. But there are solutions as well. I am currently delivering a project across the 300+ Development Trust Association Scotland membership, looking to support a diversity of projects, pulling out shared learning and using this to help future groups bring forward their transport plans. Community organisations like Development Trusts are in a perfect place to tackle local transport issues. They know their communities best and can think creatively about what will be appropriate in their local area, working within the existing public transport infrastructure (if it exists).
The projects I am currently supporting range across the geographies of Scotland and can therefore provide insight into the challenges we will face, but also the ingenious solutions which can be developed. Woolfords, Auchengray and Tarbrax Improvement Foundation[7] in South Lanarkshire, received funding from the Green Economy Fund for an electric people carrier which they are using as part of their organisational operations but also as a demand responsive service for people looking to travel to Livingston or West Calder. This provides an opportunity for people in these communities, where there are no public transport options to access services at larger settlements, without requiring their own car.
Cranhill Development Trust[8] in Glasgow are also exploring a community transport solution to address the poor connectivity in their area. They are currently undertaking a community consultation in collaboration with the Pantry network and Glasgow Community Transport to assess whether a bus route could be established that connects local communities together and enables people to access other, main transport routes.
Another trust who have been thinking about transport in their local community for some time are the Huntly Development Trust (HDT). Not one of the DTAS pilot projects, but an excellent case study in joined up transport thinking at a community level. HDT began their project in 2014, encompassing a car club, e-bike hire scheme and walking and cycling promotion. These elements continue to this day, but have been supplemented by path building, becoming an Integrated Travel Town in partnership with the Local Authority, Railway station adoption and a soon to be renovated transport hub in the town centre. Taken together these provide a multitude of opportunities for traveling around the town, and to other settlements, making Huntly well along the way  to being a 20-minute neighbourhood, at least in transport terms.
What these different projects show is that there is no one solution which will fit every community. Some solutions will need to come from local authorities and regional bodies requiring infrastructure and regional planning, others can be developed locally to meet the gaps identified by the community. All will fit together to create more walkable, sustainable and ultimately liveable places.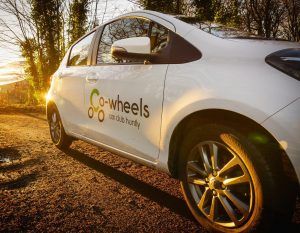 If you are interested in joining SURF's 20 Minute Neighbourhood Practice Network you will find more details here.
[1] https://www.transport.gov.scot/publication/scottish-transport-statistics-no-38-2019-edition/chapter-13-environment-and-emissions/#:~:text=2.11%20In%202017%2C%20Transport%20(including,down%20from%2037.3%25%20in%202016.
[2] https://como.org.uk/shared-mobility/mobility-hubs/what/
[3] https://www.holyrood.com/events/view,building-scotlands-20-minute-neighbourhoods-16743#:~:text=The%2020%20Minute%20Neighbourhood%20is,the%20decline%20of%20town%20centres.
[4] https://www.smarttransport.org.uk/insight-and-policy/latest-insight-and-policy/is-demand-responsive-transport-a-viable-solution
[5] https://www.smarttransport.org.uk/news/latest-news/scottish-highlands-transport-to-trial-mobility-as-a-service-platform
[6] https://beta.slowways.org/
[7] http://www.watif.scot/index.html
[8] https://www.cranhilldt.org.uk/