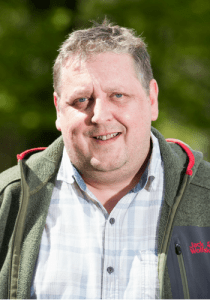 Ian McCall is a Senior Development Officer with Paths for All. He has been with Paths for All since 2010, prior to this he worked for Ramblers Scotland and RSPB Scotland and had many years involvement with Scottish Environment LINK.
Paths for All is a Scottish charity founded in 1996. They champion everyday walking as the way to a happier, healthier Scotland. Aiming to significantly increase the number of people who choose to walk in Scotland – whether that's for leisure or walking to work, school, the shops or to a nearby public transport hub.
In this article Ian looks at how, post-pandemic, we can encourage more walking and wheeling, creating healthier, greener and more connected  communities.
---
During the Covid-19 lockdown we saw a rise in the number of people walking and visiting the outdoors, as many used it to cope with the pressures of everyday life, to reach essential shops and services in their local area, and to connect with others and nature in a safe way. Many people say they are keen to maintain this as we emerge from the pandemic – with half of people saying they expect to take more visits to the outdoors after lockdown and 63% saying they would continue to travel less for non-essential journeys.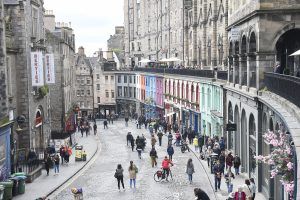 But we need to do more to make regular walking an enjoyable and accessible choice for everyone in Scotland, from all walks of life. More investment in walking programmes and safe, attractive places to walk and wheel (wheelchair/buggy) can significantly improve the nation's health, reducing health inequalities and pressure on our NHS and help address climate change.
The pandemic has also demonstrated the stark inequalities in the sort of places people live in and the numerous impacts these have on our lives. It has shown us the value of local – for those able to work from home – but that is by no means the case for all of us.
Lockdown put a great strain on local path networks and demonstrated that in many places it is not fit-for-purpose. The transport, health and climate change agendas all point to us walking, wheeling and cycling more but the current infrastructure is not able to cope.
Walk Back Better
In January we joined our partners Living Streets Scotland and Ramblers Scotland to launch a new call for the Scottish Government to 'Walk Back Better', ahead of the recent Holyrood elections. Our aim is for Scotland to become a "healthier, cleaner, safer and happier walking nation", locking in the benefits of walking by providing improved opportunities for people to walk regularly. These included: an investment in walking infrastructure; improved walking and wheeling conditions; prioritisation of walking and wheeling in planning developments as part of the 20-minute neighbourhood agenda; support for behaviour change walking programmes; 20mph in all towns and cities; enforcement of pavement parking legislation; and investment in walking to school initiatives.
Looking at manifestos for the May elections, there is a clear consensus on increasing the active travel budget – most of the main five parties have proposed devoting at least 10% of transport spending on walking, wheeling, and cycling and there is clear support for the concept of 20-minute neighbourhoods. We are therefore hopeful for progress in the coming months and years.
Local can be strategic
There is a good case for encouraging small scale, sustainable transport projects across Scotland and there should be recognition that a strategic approach to transport does not need to be about big, flagship, investment. It can be about small-scale investment at a local level across the country. We envisage multiple small projects so that the collective scale makes it a major investment. The Smarter Choices, Smarter Places philosophy is useful in thinking about this – 'local projects, meeting local priorities and needs, determined at a local level to deliver national outcomes'.
This will be important in achieving behaviour change towards more sustainable travel and in creating better places for people. This also has the potential benefit of distributing investment in a more equitable way and reduce travel and health inequalities.
More small scale, local transport development – especially for active travel and public transport, within a framework that ensures common standards and quality across the country, can bring positive impacts on health via air quality and physical activity. Projects might include:
Walking infrastructure – maintained and widened pavements, controlled crossings, shorter wait times, route finding and signage.
Bus infrastructure / routes – shelters, hubs and station improvements and walking routes to these nodal points.
Public realm / walking environment – pedestrianised town centres, green spaces, and green routes.
Walking maps.
Community challenges such as Step Count Challenge and Beat the Street
20-minute neighbourhoods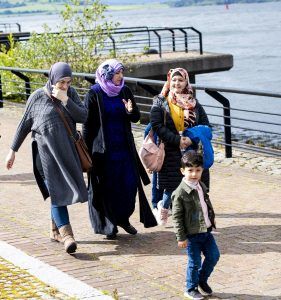 The 20-minute neighbourhood is all about 'living locally' – giving people the ability to meet most of their everyday needs within a 20-minute walk, wheel, cycle, or
It is an idea that is gaining attention around the world. It also captures the renewed enthusiasm for localism in Scotland. On many levels the idea has appeal – who wouldn't want to live in a neighbourhood in which they could obtain all the goods and services they require within a twenty-minute walk of their home? This is about what makes a good neighbourhood, and why these features are so important for making safer, healthier places to live.
20-minute neighbourhoods were included in the current Programme for Government, and we are keen that this commitment should continue.Our feeling is that the concept is two-fold. It is about infrastructure – this will be made up of will be many small-scale investments across the country rather than big ticket schemes – and also very much about behaviour change. The two come hand in hand.
These are not new concepts. The 20-minute neighbourhood is essentially about 'walkable neighbourhoods'. It is about ensuring that everyday needs are within easy, safe walking distance of home: schools, shops, Post Office, parks, greenspace, paths, good public transport, etc. What is different is that the Scottish Government is supporting efforts to turn these aspirations into reality.
There is a developing conversation about what this means in Scotland – and in different contexts – so this is an exciting time to become involved. No one, least of all ourselves, has all the answers but here are some things to consider:
20 minutes for one person is not the same for another – we need to consider age, disability etc. – if we get it right for the least mobile people, we get it right for everyone.
Existing neighbourhoods are not equally great places to live – we need to target and enhance the ones that need improvement.
We need to be clear about the motivations for deciding to walk, wheel or cycle. It is often not just about the travel but about health, community, etc. as well.
There is a cross-over between functional walking and walking for pleasure – including availability of parks, green spaces, local paths. Am I going for a walk because I enjoy it or to buy milk? It can often be both.
Not everyone has, or requires, access to a car so there is a need for reliable, affordable public transport as well as better opportunities it walk, wheel or cycle.
Many of us are trapped in car dependency – through planning, location of housing, etc. – and this can be an aspect of transport poverty – and once you have a car that changes your decision-making even over very small trips.
If we enable people to be less car dependent there are financial, environmental, social and health benefits.
We need to think about how to undo 70 years of doing the wrong thing…we need to plan for people, not cars.
It raises questions about centralisation of services, loss of facilities (schools, post office, bank etc.).
It offers opportunities for local economies – shopping locally, for example Scotland Loves Local.
Local infrastructure development can be an opportunity for skills development, training opportunities. e.g., our Community Path
Different approaches will be needed in different settings – what works in a city will be different to what works in a rural community.
We should celebrate the joy of living in people-friendly places and aim to ensure more people can benefit from that.
The National Planning Framework 4 (NPF4)
Lastly, ten years after the publication of the Christie Commission, the concept of preventative spend that it promoted is very much alive – and the 20-minute neighbourhood can be an embodiment of that idea. Healthy neighbourhoods support healthier lives and can be part of a shift from treating sick people to helping people to stay well.
The recent NPF4 position statement states: We will apply concepts such as 20 minute neighbourhoods across our cities, towns, and rural areas so that the places where we live and work are more resilient and sustainable.
We see NPF4, currently in development, as an important opportunity to embed these ideas in plans for the walkable Scotland of the future.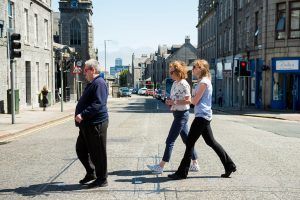 If you are interested in joining SURF's 20 Minute Neighbourhood Practice Network you will find more details here.