Fuse Youth Café have taken almost all its programmes and activities online during the COVID-19 pandemic following lockdown and added a couple of tweaks to service delivery to ensure we continue to provide much needed practical support for our members, distributing food and activity parcels.
Using Facebook and Zoom, Fuse Youth Cafe, alongside its partners has been keeping children and young people engaged in activities through `The Game'.  Ironically, The Game is a concept which began as a seed of an idea from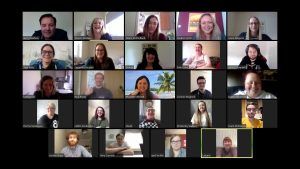 CEO Gerry Baldwin, who wanted to tackle the excessive amounts of screen time racked up by the young people while they were in the clubs.  This idea was then further developed with our now partners in the Game* and successfully piloted last year, securing funding from the Scottish Governments Investing in Communities Fund
Staff and volunteers have swapped their youth worker hats for kids tv presenter hats, compiling and presenting daily videos and challenges that are beamed into the homes of young people across Glasgow each day, delivering content that seeks to challenge their young minds in exchange for points in The Game to compete for grand prizes across different age groups.  As much as The Game was meant to divert from the internet, it has been an invaluable tool, being able to engage our young people in positive activity at a time when the risk of social isolation was never higher. Even some of the local elected members and board members have gotten in on the act, providing their videos and challenges.
This platform has been ingenious in providing a gateway for Fuse to continue to deliver valuable programmes, not only managing to meet outcomes but being able to adapt to the challenges that COVID-19 has brought about, for instance, Fuse supports youth volunteering and has had to re-think how best it can support the young volunteers during the lockdown.  Having an extremely supportive funder (The National Lottery) and The Game platform, has allowed our volunteers to actively stay involved, developing videos and quizzes as well as being involved in Zoom team meetings to shape the content and learn new editing skills.  This is just one example of how we have managed to deliver our programmes, you will see the many others on the Facebook page, featuring cooking, nutrition, fitness, arts & crafts, music and much more. (photo is a snapshot of some of the videos on facebook)
Prior to lockdown, two groups of young people were excitedly preparing for the premier screening of their recent screenplays they had been working hard on since last year.  One was for a Heritage Lottery Funded History Project on Shettleston called "It's our History 2" and the other was a Scottish Government funded Project for Oral Health called "The Skin of your Teeth".   The groups agreed to use The Game to showcase their films as a small substitute for now.
We are just about to come to the end of this edition of The Game and so far, well over 150 video's have been produced by the youth workers, volunteers, and staff from the partner organisations and hosted on Facebook and YouTube, over 200 young people have actively participated in the challenges from across Glasgow and thousands more have viewed our page.  We are continuing with Game 2 – The Summer Edition in July.
To see The Game in action, look up The Game – Glasgow East on Facebook or alternatively:
Twitter: TheGameGlasgow1
Instagram: thegameglasgoweast
YouTube: The Game
* Fuse Youth Café partners in The Game are Connect Community Trust, Pavillion, The Connie, Innerzone, The Calvay Centre and Glasgow Kelvin College.
(Update provided by Fuse Youth Cafe)