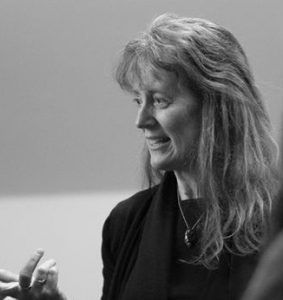 Bridie Ashrowan is Chief Executive of EVOC, Edinburgh's Council for Voluntary Service. She has over thirty years' experience in the community sector, having worked in start-ups, social enterprise and business. Before joining EVOC this year, her most recent position was Chief Executive at Space & Broomhouse Hub where she successfully headed the £3.2 million capital investment programme to open the Hub – a local community development trust in an area that has some of the highest child and in-work poverty in Scotland – towards the end of 2019.
In this article she reflects on the possibilities for human connection and community development within a 20 minute neighborhood.
---
Imagine standing on a street with a small child in a buggy nearly anywhere in Edinburgh and think through what a 20 minute neighbourhood looks like – I suppose that is where I start.
When I first arrived in Edinburgh in the late 90s as the young mum of a one year old, I did not know a soul in the city other than my partner. And I had no car. I did have a much-loved hand-me-down buggy, so 'pram pushing' distance was a real experience and every resource within that radius hugely important. It allowed me to reduce a sense of isolation that was very real, in a city that was maybe not as friendly as it is now. I was able to meet folk through the toddler group in the basement of a local church, all of us disoriented by the change of lifestyle that comes with being a new parent. There was a supermarket with affordable food in walking distance and eventually I joined a belly-dancing group (I was not very good but laughed a lot). There was a college I could get the bus to, where I did a course as part of thinking about a career change, and, I was able to begin working for a small business – again within walking distance.
In light of that experience I find myself asking how we enable people to have access to as many opportunities and services as possible within that 'pram pushing' distance? Particularly in our urban environments where 88% of the Scottish population live. In the use of this term I am inspired, and held to account, by the recommendations of Edinburgh's Poverty Commission, the first significant report published following the start of the pandemic. It might be a young person who wants to get to their local youth group, or sports club, on their own two feet; or an electric wheelchair route; or the distance you can walk if you're older and suffering from arthritis to get to your GP.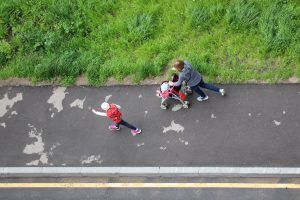 It is my hope as incoming Chief Executive at EVOC (Edinburgh Voluntary Organisations' Council) that thinking about this will help Edinburgh become a city of thriving places. Places where isolation is reduced and well-being is enhanced. I am passionate about how people from multiple walks of life, young and old, tell the story of what it means for their community to thrive. Or how it could thrive, if it had the resources to do so and its citizens could influence how they're used. The idea of 'Thriving Local' is something that we're very interested in at EVOC, as it expresses, I hope, a belief in the natural placemaking that is at the heart of our communities.
In recent times there has been some very interesting community and statutory partnership work carried out in Barking & Dagenham in London on 'Participatory Cities'. They have actively measured change, using indicators like: 'Instances of social cohesion', 'Increased capacity for tolerance towards others,' 'public land under community cultivation for gardens or play' and 'numbers of people volunteering'. These are good measures, or, at least, questions to ask of local people – allowing them to tell their stories and share their aspirations.
Strong Grassroots
Edinburgh is a place where there are so many examples of fantastic community activity and a strong social fabric. But equally, if you're standing by the road with a buggy in many areas in the city right now, such resources might feel like a long way off. Even the bus route to reach them might appear faraway, making it feel like an urban desert. The 20 minute neighbourhood is not a panacea for all ills. However, our hope at EVOC is that these plans have community building at their heart, for a change.
In my last role at Space & the Broomhouse Hub, I was very lucky to inherit a small collaborative street party run each summer by local 'off-the-radar' groups and residents – within our 20 minute neighbourhood. The day would start with salads being produced by young people with learning disabilities – on placement in the café and working along-side volunteers and staff – with everyone excited about the day ahead. The weather would have been checked obsessively for days ahead so we knew if gazebos were needed, would blow away or if we would be blessed with some sunny Scottish weather. The bouncy castle man arrived and for the rest of the day the queues were busy and the laughter infectious, carrying down the street, up to 20 minutes away, to attract folk who did not know there was a party on.
SCOREScotland (a locality-based anti-racism and multi-equality voluntary organisation) set up a clothes swap stall with colourful 'shalwar kameez' and children's clothes gracing the rails. A honey pot as the day went on, it was staffed by folk easily chatting in Urdu, Bengali and English. Before lunch time, the folk from the dementia day club arrived with family members to enjoy a country and western band in the church hall, which also proved to be popular with the Community Council stall holders. It was popular too with Napier University, and Health & Social Care, staff who had come along to help our staff and partners consult hundreds of local people about their hopes for the health and well-being of themselves and their community.
The community I describe above is one with high in-work poverty, but the social enterprise café has an affordable menu – what did they want to see on there? Could there be training opportunities too? Maybe for a mum returning to work after post-natal depression? And more music in the hub hall! When we analysed what the community told us, there were four priorities (from the hundreds consulted): more for young folk, more done to reduce isolation, more on communications (what is going on?) and more on affordable and fresh food. After the pandemic hit, we needed more for young folk, more to reduce isolation, more on what is going on, more on affordable and fresh food. Wise community that!
Support to Thrive
Sometimes we do not know we need something until it comes to our door, for example, when a parent or partner is diagnosed with dementia. Therefore, it is vital that we co-design services in communities with people who live there. It may be that the specialist help they need is some way off – those living with early onset dementia and carers are both groups of people most likely to be affected by poverty, loss of income, and depression or isolation as a result of a change in life circumstances. Equally important, is the need for social contact – is there a local place where there can be some respite and the chance to go to the library or meet a friend for coffee (and some peer support)? As a society we have professionalised so much it has resulted in the loss of social cohesion. However, we can reverse that trend, in fact, we urgently need to – or our NHS and Social care budget will rocket with a concurrent loss of well-being.
And where are the employers? One of the central challenges to the creation of 20 neighbourhoods is the lack of accessible employment opportunities. This is also, arguably, the reason that many of our areas of deprivation have not turned the corner in Scotland – we have not made strong enough links between poverty reduction and our economic strategies. There is a drive now in Scotland, and Edinburgh we hope, for 'community wealth building'. This is where major institutions, as employers, think about areas of higher unemployment or in-work poverty, considering how to up-skill people and offering jobs with good conditions. Are there small employers, social enterprises or start-up businesses, who can win contracts with these institutions? We would like to challenge our major institutions to commit to spend 1% of their budget in a targeted way, in the top 10 areas of in-work poverty in the city, as a start in this direction. Working hand in hand – 20 minute neighbourhoods and community wealth building could lead to the creation of truly accessible, secure and fair jobs.
We can, and should, balance the 20 minute neighbourhood with opportunities for digital connection. Tim Berners Lee's invention of the world wide web changed the world and so has COVID. As a city, let's recognise that affordable broadband is as essential as any utility for all communities, and make plans to deliver that alongside affordable devices and skills to use it. Digital can help people access education and health appointments, as well as vital social networks. I once met Tim's dad at a digital conference and he was so proud when I spoke to him on seeing his name – it is my metaphor for this – I said hello and a few words about his inspiring son. We can embrace digital and a  human connection as two sides of coin.
Further to that, can digital skill building for better jobs be available locally or online to those who have been most impacted by this pandemic? If Capital City Partnership (Edinburgh's employment agency) have anything to do with it the answer is yes; through local grants for digital skills training issued to local go-getting community organisations. The design of this programme came from local co-production, listening to what works.
–
As we look forward and emerge to live in a world with COVID, we must not have rose tinted glasses. While many communities and voluntary organisations stepped up to be part of the pandemic response, supporting those around them through this crisis, these very same communities are places where people may be affected by long-term underinvestment. With the withdrawal of spending by local authorities due to austerity, and the loss of vital libraries and community centres. This all means we have serious work to do, together. If we have learned anything over this last year, it is the importance of people working beyond vested interests to come up with solutions, collaborating to get things done.
COVID forced us to connect with what was local – where we could walk, or shop within easy reach. These things became vital in a way that was a surprise for some, but simply reflected the existing lived reality of an urban desert for others. Who did we know who lived near us, if anyone? Who might need their messages done? The nonagenarian Community Council Chair told us in Parkhead that she had her own campaign, to say hello to everyone she met, young and old, as she stayed active and walked near her home every day. I can see her smiling face now, she is an inspiration to me, as I start to think about what the 20 minute neighbourhood could mean for our communities.