The COVID- 19 crisis is exposing deep underlying fragilities in our economic and social systems. At the same time, as evidenced in  SURF's series of special bulletins,  many under resourced communities and their organisations have responded effectively to meeting immediate local challenges. Policy makers are increasingly interested in how it might be possible to sustain raised levels of collaborative community action, in a way that could rebalance local regeneration power, resources and decision making.  
SURF is using its community focused, cross sector role and networks to better inform those considerations. One aspect of SURF's broader contribution to building back better is a series of articles here in the SURF Journal.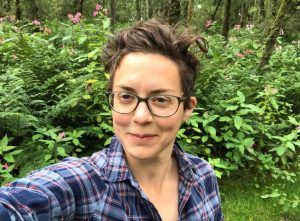 The COVID lockdown has amplified the inequalities facing women across Scotland – especially those who were already isolated and vulnerable.    Elsewhere the Dundee International Women's Centre explains how they stepped up to the challenge to meet the crisis in their community. 
Our final themed Journal article comes from Dr Kirsty Alexander, who teaches Gender Studies at the University of Strathclyde. She reminds us that home is not always a safe place. 
Stay Home. Stay Safe? Gender, vulnerability and education
Imogen Tyler's 2020 book Stigma: The Machinery of Inequality, [1] captures a sense of austerity Britain, pre-COVID-19, where the widespread reduction and closure of health, housing, care and community services has left thousands of people lacking resources and social support to live in dignity.  One example she cites is that of a woman's experience at a Job Centre where staff were so keen on following procedure that they failed to respond to explicit signs of trauma and self-harm.  Stephanie's experience as unemployed, separated, a single parent, a carer to her mum and clearly unwell,  speaks to the enduring 'gendered cycle of vulnerability', where inequalities in domestic or private life dovetail with and are reinforced by inequalities in public life.[2]
Even before COVID, these cycles of vulnerability impacted on the ability to access basic resources and exercise decision-making power, the right and ability to exit unsafe homes, and to become part of and remain in the paid workforce and public life. As we enquire about continuities and changes in inequalities during the global pandemic, it's important to keep these cycles of vulnerability in mind. The COVID-19 pandemic has brought into sharp focus the ways in which social vulnerability affects some groups more than others, and how trauma and inequalities are intertwined and compound social vulnerability.
In Scotland, as globally, civil society organisations, anti-violence and women's rights advocates have been quick to call attention to how the pandemic has exacerbated already enduring socio-economic inequalities based on gender and class, 'race', age and ability.[3] Because of the isolation created by lockdown measures relative to home life, media and government attention has turned to the ways in which lockdown has intensified and increased the risks of domestic abuse and sexual violence.[4]
Scottish Women's Aid and researchers of gender-based violence, among others, have stressed that 'an intensification of abuse rather than the creation of new abusers' is 'likely' to be the material reality behind statistics.[5] While data about domestic abuse in Scotland for 2020 are yet to be published, there is unlikely to be a drop in perpetration of abuse. The 2018-2019 official data shows that 60, 641 incidents of abuse were recorded by police, with 88% occurring within a home or dwelling, and 82% of incidents involving a male accused of perpetration of abuse and female victim.[6] Data about incidents of sexual violence reported show that there has been an 8% increase in 2018-2019 compared with 2017-2018, with 13, 547 reports made.[7] Rape Crisis Scotland offers some insight into the data, showing that a large portion of the incidents recorded will be child sexual abuse and that sexual abuse is more likely to occur in the survivor's home than other places.[8] Home has never been a safe place for many of Scotland's women, young people and children.
I spoke with staff of a semi-rural service for survivors of sexual violence about the impacts of the pandemic on their ability to support trauma-recovery. They welcomed the additional funding granted by the Scottish Government for Rape Crisis Scotland and Scottish Women's Aid to adapt service provision and reach survivors via internet and phone technologies. Yet, these adaptations have highlighted difficulties in sustaining support during the pandemic and phases of lockdown. A key difficulty early in lockdown and currently has been about creating time and space for support and recovery within households and dwellings. One staff member put it that:
'Work and home divisions of labour have not changed but women are now present in the home, with no escape. So, where is the space for trauma counselling? The headspace for processing is often not in the home. With all the juggling of working, caring, and domestic life, there is no space to heal. Healing is often not a priority during crises'.
Indeed, they stressed the continuities with pre-COVID life with respect to how society understands the experiences of victim-survivors. As one counsellor told me:
'The world is happy when women put their trauma in a box and just get on with it'.
What these insights suggest is that funding for safe recovery spaces for victim-survivors of domestic abuse and sexual violence remains paramount. Counselling and therapeutic spaces are spaces for survivors and for recovery, and afford a degree of safety and spaciousness that busy and/or abusive households and workplaces cannot. It is well established that trauma recovery requires conditions for safety, trust and empowerment as foundations, at the very least.[9]
Ensuring that counselling and recovery spaces are COVID-safe and adhere to social distancing are priorities, and additional funding for these adjustments are being sought in at least some local support centres so that they may open their doors again.
What is also clear is that securing funding and making adjustments to services is only part of the battle in breaking cycles of vulnerability and moving away from ignorance about trauma and inequality. One staff member was keen to stress that funders often seek quantifiable data about trauma recovery and support 'successes', which, while understandable, doesn't account for the reality of what happens when abuse is confronted and some women decide to embark on the (non-linear) path of recovery.
Funders often look for evidence of 'big changes' or 'big successes' and what may appear as a 'small' or insignificant shift in feeling and behaviour in the life of a survivor may actually be a major step in healing.
This insight suggests that public education about what trauma is, how it manifests, and the ties between social vulnerability, trauma and inequality may well go some way towards 'building back better.' As a Gender Studies teacher, it is unsurprising this is where my logic turns to. Education is a powerful tool in breaking silence, informing those who are privileged of that which lies outside their vision, and raising consciousness and voice among socially marginalised groups. To be sure, there has been an acute need for this education well before the pandemic, as Stephanie's experience of the Job Centre staff reminds us and as countless movements for justice have articulated.
Perhaps there are signs of public education emerging already, as discussion occurs of how the pandemic has been traumatic for many in light of the changes in living that are suddenly outwith our control and life-threatening. The collective and individual trauma sparked by the emergence and spread of COVID-19 and the medical and social impacts (deaths, enduring illness, isolation, loss) have been and are being mapped.[10] Educators and healthcare workers have recently been trying to make trauma learning accessible.[11] With a hopeful heart and eye, this indicates that conditions for shared understanding of trauma (and its various forms and expressions) across social groups and generations could be leveraged in the name of citizen solidarity. Perhaps then we, as citizens and advocates, would support the reinstatement of services which seek to alleviate social vulnerability and offer soothing and assistance to those in need in both 'ordinary' and 'extraordinary' times.
This is the last week of the Journal's themed reviews of the ways in which the COVID19 crisis is exacerbating inequalities. SURF's unique position as Scotland's regeneration forum allowed us to access the views of frontline workers, academics, policymakers, politicians and of those people living and working in the communities which are being hardest hit.  
Through the contributions from our network we have been able to do more than record the damage that has been caused and rejoice in the innovative and collective creativity of those who stepped up to meet the challenges. We have also been able to present ideas and processes which encourage debate about how our many national and local partner organisations should support and sustain the most effective of these responses to collaboratively build back better.  Thank you to all who have contributed.
SURF welcomes all feedback and suggestions for future Journal articles. Please email Elaine Cooper at Elaine@surf-old.local
References
[1] Tyler, I. (2020) Stigma: The Machinery of Inequality. London: Zed Books Ltd.
[2] Okin, S. M. (1989) Justice, Gender and the Family. USA: Basic Books Inc. See also, Young, I. M. (2009) The Gendered Cycle of Vulnerability in the Less Developed World. In Satz, D. and Reich, R. Toward a Humanist Justice: The Political Philosophy of Susan Moller Okin. Oxford: Oxford University Press.
[3] See for example: Engender (2020) Covid-19 Articles and Resources [Online] Available at: https://www.engender.org.uk/content/covid-19-resources/ (Accessed July 31st 2020)
Engender. (2020) Covid-19 and women's equality [Online] Available at: https://www.engender.org.uk/news/blog/covid-19-and-womens-equality—rolling-blog/ (Accessed July 31st 2020)
Forbes (2020) Putting a Gender Lens on COVID-19: Thought Leaders Weigh In [Online]. Available at: https://www.forbes.com/sites/marianneschnall/2020/04/17/putting-a-gender-lens-on-covid-19-thought-leaders-weigh-in/#366f6ffd5b23 (Accessed July 20th 2020).
[4] Woods, E. (2020) When staying home is unsafe: domestic abuse in lockdown [Online]. Holyrood. Available at: https://www.holyrood.com/inside-politics/view,when-staying-home-is-unsafe-domestic-abuse-in-lockdown_15390.htm (Accessed July 31st 2020)
Graham-Harrison, E. et al., (2020) Lockdowns around the world bring rise in domestic violence. Guardian. Available at: https://www.theguardian.com/society/2020/mar/28/lockdowns-world-rise-domestic-violence
(Accessed July 31st 2020).
[5] Brooks-Hay, O. Burman, M. and Bradley, L. (2020) Domestic abuse and sexual violence: the responses and realities provoked by COVID-19 [Online] Available at:
https://sccjrblog.wordpress.com/2020/05/12/gender-based-violence-in-a-pandemic/ (Accessed July 31st).
Scottish Women's Aid (2020) Submission to the Equalities and Human Rights Committee [Online] Available at: https://womensaid.scot/wp-content/uploads/2020/05/Equalities-and-Human-Rights-Committee-submission-final.pdf
[6] Scottish Government (2020) Domestic Abuse: Statistics 2018-2019 [Online]. Available at:  https://www.gov.scot/publications/domestic-abuse-scotland-2018-2019-statistics/pages/2/ (Accessed July 5th 2020)
[7] Scottish Government (2019) Recorded crime in Scotland: 2019-2018 [Online] Available at: https://www.gov.scot/publications/recorded-crime-scotland-2018-19/ (Accessed July 5th 2020)
[8] Rape Crisis Scotland (no date) Facts about sexual violence [Online] Available at: https://www.rapecrisisscotland.org.uk/help-facts/ (Accessed July 5th 2020)
[9] Daniels, S. (2017) Working with the Trauma of Rape and Sexual Violence: A Guide for Professionals. London: Jessica Kingsley Publishers. Van Der Kolk, B. (2015) The Body Keeps the Score: Mind, Brain and Body in the Transformation of Trauma. London: Penguin Books. Levine, P. (2005) Healing Trauma. Boulder, CO: Sounds True, Inc.
[10] Stubley, J. (2020) 'The early response to COVID-19 – a psychoanalytic and trauma perspective [Online] Available at: https://tavistockandportman.nhs.uk/about-us/news/stories/early-response-covid-19-psychoanalytic-and-trauma-perspective/ (Accessed June 25th 2020).
[11] Haines, S. with S. Standing. (2016) Trauma is Really Strange. London: Jessica Kingsley Publishers. See also www.traumaisreallystrange.com