Capital City Partnership (CCP) adapted and launched our Choices for Change project amid COVID-19 to support the significant challenges that communities are now facing as a result of the epidemic.
Choices for Change is funded by the Scottish Government's Investing in Communities fund and was intended to be a participatory budgeting project but has taken a flexible approach in the South West locality to meet the immediate needs of disadvantaged families in the community during this time.
Through Choices for Change, CCP have been involved in the community efforts to provide food and support to those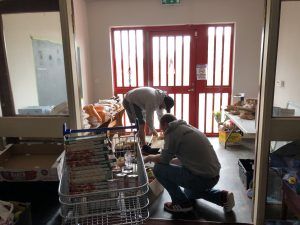 living in the South West area by placing a Family Community Worker within the shared community flat at the Calder estate.
Our Family Community Worker has been embedded in the area, supporting the provision of food to those in need and providing support by linking families and individuals in to the Joined Up for Jobs network as well as wider support networks available to them within Edinburgh.
Alongside the practical support, CCP have awarded a total amount of £2,500 to five projects in the South West community:
Wester Hailes Youth Agency were awarded funding to support the provision of comfort packs to young people and their families. Young people had vocalised that they were struggling to buy toiletries. CCP provided funding to enable 25 young people to be provided with a pack that included essentials and a supermarket voucher for £25.00 to enable access to food.
About Youth were funded by CCP to provide food parcels to support 45 families over a three-week period. Families receiving food parcels were identified via About Youth's existing client base and via referral from local primary and secondary schools. These food parcels were delivered directly to the doors of the families receiving support.
Since lockdown began committee members at the Calder Residents Association have got together to cook and provide meals to the elderly and vulnerable in our local area.  We are aware that there is a need in the Calder Community and the Calder Residents Association want to do all we can do help.
Calder Resident's Association have been preparing, handing out and delivering over 150 meals per day from the community flat kitchen based in South West Edinburgh. CCP supported their application to purchase a new industrial food processor, food blender and chest freezer to enable the volunteers involved in the community flat to make and store more fresh meals for the community to better meet the growing demand for food support that they are experiencing during this time.
Sighthill Primary School Parent Teacher Association (PTA) were awarded funding from CCP to provide ten extra families with food provision support. Families in need of support were identified via the school's online survey and priority was given to those facing challenging circumstances such as a sudden loss of income.
With Kids, in partnership with the Calders Children Zone, were awarded funding by CCP to provide dignity boxes to families. The Children Zone have been providing food to more than 200 people daily and families reported that they were struggling to purchase basic toiletries. Supplying dignity boxes to families and individuals promotes self-worth and wellbeing by giving them access to the tools they need to care for themselves and their children during this time.
Choices for Change remains open to new applications that support the community in South West Edinburgh. Contact stacey.cuthbertson@capitalcitypartnership.org for more information.
(Update provided by Capital City Partnership)