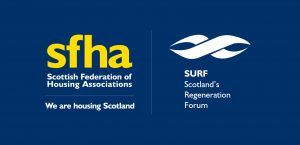 SURF and the SFHA are delighted to announce a renewed partnership agreement between the two organisations.
The partnership will pool knowledge to inform and influence housing related regeneration policy and practice.
SFHA and SURF will work to highlight the key role that affordable and social housing plays in community regeneration, and in promoting more inclusive development across Scotland.
The partnership provides a number of direct benefits to SFHA members;
SFHA members have an automatic right to free SURF membership
Free access to programme of themed SURF Events
Place at SURF's showpiece Annual Conference
Access to SURF publications
In addition to these benefits the partnership allows the SFHA and SURF to work collaboratively on issues of joint interest, such as community regeneration, welfare reform and land reform.  The partnership also allows SFHA members to engage with SURF's network of regeneration organisations, helping housing associations to extend their knowledge and influence.
Welcoming the announcement of the renewed partnership Sarah Boyack, Head of Public Affairs said
"We are delighted to continue our partnership work with SURF.  Housing associations do much more than deliver quality affordable housing – they are involved in the regeneration of their communities creating jobs and training and providing services and support.  Our partnership with SURF reflects that role and we look forward to the year ahead.  We have a long history of working together and are delighted to be part of the judging panel for this year's SURF Award for Housing"
Andy Milne of SURF said
"SURF and SFHA have a longstanding partnership based on mutual interests and collaborative working. We are delighted that the partnership will continue to grow over the next year as we work together to deliver joint events that will benefit not only SFHA and SURF members, but also our wider regeneration and housing networks. We look forward to working with SFHA and their members going forward."
Look out for more on SURF and SFHA in the coming weeks and months – including a conference on land, planning and place early next year.