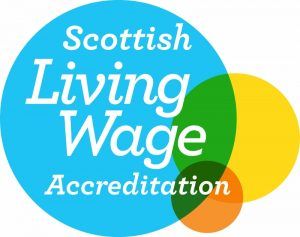 SURF has received formal accreditation as a Scottish Living Wage Employer by the Poverty Alliance and the UK Living Wage Foundation.
The Scottish Living Wage, currently £8.45 per hour, was calculated as a minimum pay level for meeting basic living costs in the modern economy. It is updated annually in November following an independent review into typical UK household costs that covers goods and services, housing, Council Tax, childcare and travel.
SURF employs a team of six permanent staff, all above the Scottish Living Wage threshold, and the commitment also applies to the external contractors and service providers we engage with in the delivery of our activities programme.
SURF joins a growing body of more than 750 accredited Scottish Living Wage employers that have successfully registered with the accreditation initiative since it was created by the Poverty Alliance in 2014. The Scottish Government, which supports the campaign, has set a target of reaching 1000 accredited employers in Scotland via the voluntary accreditation scheme by autumn 2017.
SURF Chair, Pippa Coutts, said: "Fair work practices are one of the SURF network's main concerns, as highlighted in our 2016 Manifesto for Community Regeneration and our Decent Work collaborations with Oxfam Scotland and others. The growth of the Scottish Living Wage campaign and accreditation scheme is a welcome development, and we are pleased to become the latest organisation to join. We will be continuing to promote the value of the campaign in helping to address inequalities and support a fairer Scotland."
For more on the Scottish Living Wage campaign, please visit the dedicated website: http://slw.povertyalliance.org