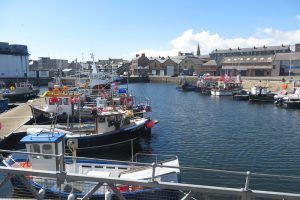 SURF is seeking a part-time Facilitator to support its new Alliance for Action programme site in Peterhead, Aberdeenshire.
The successful applicant will be responsible for helping to build on local progress towards the regeneration of Peterhead town centre, supporting collaboration and project delivery in response to community demand.
Recent SURF consultation activity in Peterhead established broad consensus on the town's main strengths. These include its rich heritage, active community, economic assets and strategic location. Our conversations and visits also highlighted significant social and economic challenges in the town centre, including vacant and derelict buildings, anti-social behaviour, and limited social and economic opportunities for young people. SURF also heard strong local desire to do more to improve pride of place, and to attract and retain visitors.
The primary role of the Peterhead Facilitator will be to assist local community groups, and partners including Aberdeenshire Council, in the development of productive, cooperative activity towards practical town centre improvement. This will include providing all reasonable support to local stakeholders for project planning, fundraising, development and implementation. The role presents an exciting and rewarding opportunity to contribute positively to the future of one of Scotland's most significant coastal towns.
Please click on the link below to download a job description with further context, a note of the main activities, a list of the qualities and skills we are seeking, the main terms and conditions, and details of how to apply:
SURF Peterhead Facilitator Job Description
The closing date for applications is Monday 14 November.
Interviews will be held in Peterhead on Monday 28 November.
Any intending applicants that have any queries, or would welcome an informal discussion about the role, are welcome to contact Derek Rankine at SURF via derek@surf-old.local.
Photo: "Peterhead" by Liz Smith is licensed under CC BY-NC-ND 2.0