SURF Chief Executive Andy Milne discussed post-industrial urban regeneration in the context of recent steelworks closure announcements as a guest on BBC Radio Scotland's John Beattie show (13 October episode, available on BBC iPlayer, from 35:00).
When asked what actions could be taken to help workers and communities affected by the sudden loss of a major employer, Andy said:
"Frankly, not enough is done. The reality is, for decades now in the UK, we just don't plan, we just don't take the co-operative, planned approach. We've had decades of being told it's about services, it's about the knowledge economy, manufacturing isn't important anymore."
He contrasted the UK situation with that of Germany, which responded to similar deindustrialisation challenges by investing in knowledge and skills training with a view to maintaining capacity for future small-scale manufacturing opportunities. This strategy, Andy said, had proved effective, given the strength of the German manufacturing sector and the value it continues to offer to many of the country's towns and cities.
Andy went on to highlight several successful regeneration responses to post-industrial shocks in Scotland, including the work of Dundee Waterfront and Clyde Gateway. Both agencies, he said, are building authentically on the industrial heritage of Dundee and east Glasgow to revitalise communities, address physical decline and develop external investment opportunities in areas old and new, from manufacturing to life sciences and digital media.
Another example is the Lomondgate initiative in Dumbarton and the Vale of Leven. Highlighted in the Infrastructure category of the 2012 SURF Awards for Best Practice in Community Regeneration, the project was developed in response to the closure of the Diageo J&B Scotch Whisky bottling plant in 2000 and the loss of 470 jobs.
With no public investment, Lomondgate was developed by a partnership led by the Strathleven Regeneration Company, which was formed with initial support from Diageo. The project has since created 688 direct jobs in a wide range of sectors including manufacturing, tourism, construction and television production. The infographic below provides a summary of the project's latest impacts.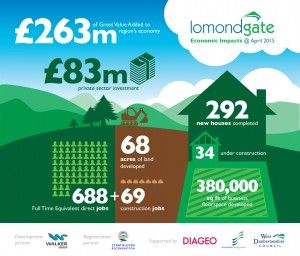 The shortlist for the 2015 SURF Awards, announced this month, features a number of projects developed in response to post-industrial economic challenges. The independent judging process is ongoing and the winning projects will be announced in a special SURF Awards Presentation Dinner event in December.