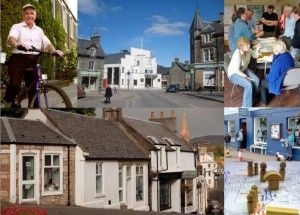 SURF participated in the official external advisory group for the Scottish Government's National Review of Town Centres over 2012-13.
The advisory group, chaired by the architect Malcolm Fraser, concluded the review with a recommendations report. In November 2013, the Scottish Government published a Town Centre Action Plan in response. The Action Plan notably featured a commitment to encourage local authorities and other institutions to adopt a 'town centre first principle', which a call to put the health of town centres at the centre of decision-making processes.
Today, the Scottish Government published an 'Action Plan – One Year On' report, highlighting progress against the original set of commitments. The report notes that the Scottish Government is continuing to liaise with SURF to explore additional community-led activity that can support town centre regeneration. Please click here to download the 'One Year On' report in PDF format.