This is the question addressed through recent research, carried out by Oxfam Scotland and the University of the West of Scotland, in collaboration with the University of Warwick.
Defining 'decent work' is vital to improving employment practices today and to move beyond 'a simplistic focus on employment rates'. This research is also particularly timely, in the context of the upcoming Scottish Parliamentary election. Moreover, it ties in strongly with SURF's networks' concerns about the labour market, as highlighted through the SURF manifesto which made reference to fair work practices.
This area of research is critically also important with the increasing number of individuals employed in insecure work as well as the growing debate over the minimum wage, especially as a fifth of the Scottish workforce are paid less than the living wage. However, job security and pay rates only answer part of the question over what should be classed as 'decent work'.
This summary article will briefly look at how this research answered the question of decent work, with details of some of the initial results. For the full preliminary report, follow the link here.
Who participated in the research?
Participants in the research were largely employed in low paid sectors, including social care, hospitality and cleaning, as well as demographic groups facing additional disadvantages at work outside low pay including young people, disabled individuals, ethnic minority groups and lone parents.
Across Scotland, individuals from these groups were engaged in discussions on decent work through a variety of different ways, as shown in the infographic below.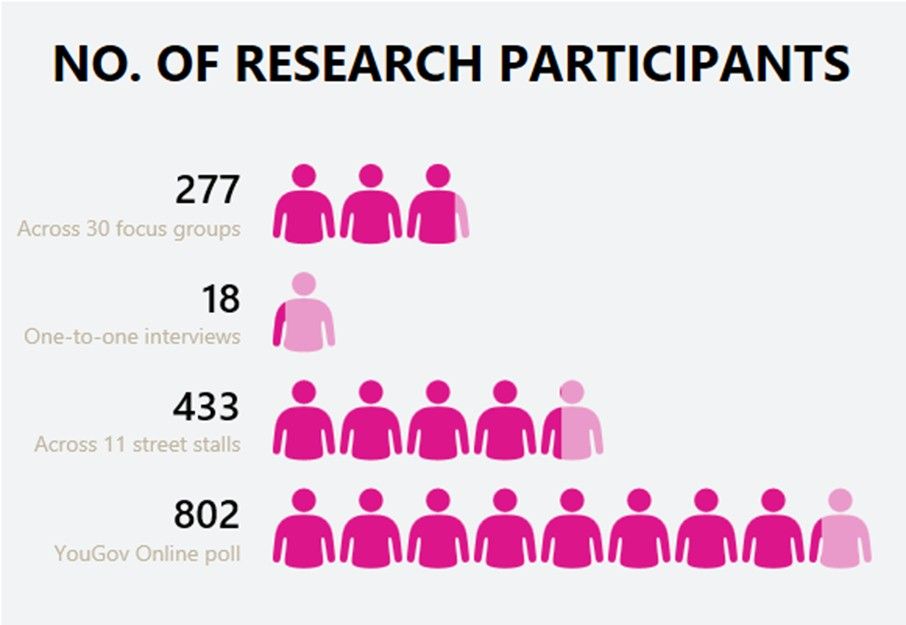 Their input was used to create sets of weighted rankings on decent work, as explained below.
What are the priorities for decent work?
By comparing the priorities from the different research methods, as illustrated in the tables below, it is clear that there are certain factors which are consistently ranked vital to decent work, such as a 'decent hourly rate', 'job security' and a 'safe environment'.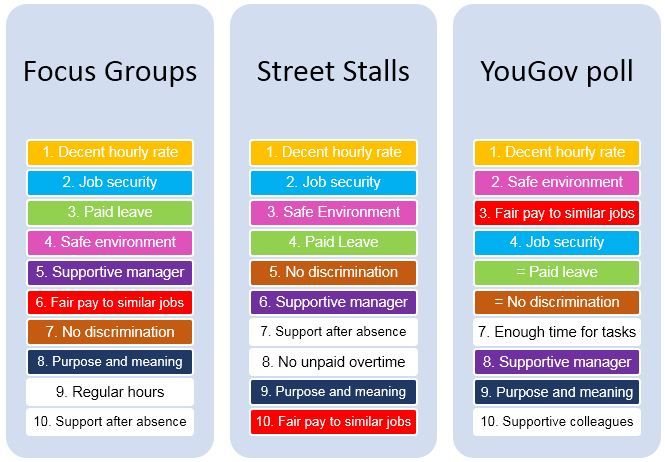 The report also highlights how priorities for decent work differ between women and men. By means of an example, from the focus group results, there is a significant divergence in findings for particular factors. Women highly rate a 'supportive manager', 'supportive colleagues' and 'support after absence' far more than their male counterparts. In contrast, men value 'workplace representation', 'regular hours' and 'paid overtime' significantly more than women.
Defining priorities for decent work
The top five priorities garnered from the focus group discussions were more closely defined by the participants to consider what they should mean in practice, as shown below. Taking these definitions forward, the main report provides an insight into the realities of attaining these priorities for decent work in practice, through quotations from some of the experiences of participants.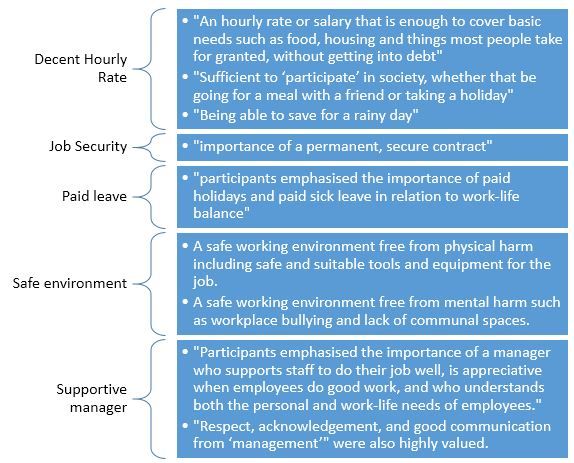 How should these results be taken forward?
"None of the factors which participants prioritise are unreasonable and extravagant; they represent what many would see as quite limited expectations and should be common practice in twenty-first century Scotland."
As this national study shows that individuals across Scotland share similar priorities, the researchers suggest that these results could be used to establish minimum standards for decent work, especially as these priorities are often not met in the workplace.
The researchers argue that this should be taken forward by policy makers, alongside key stakeholders who have a key role in ensuring decent work standards including employers, trade unions, industry bodies and those involved in the procurement of goods and services.