From a community kitchen in Leith, hundreds of meals are delivered every day across Edinburgh. 
To the homeless who now have beds in hotels where kitchens are closed. To the elderly and vulnerable in need of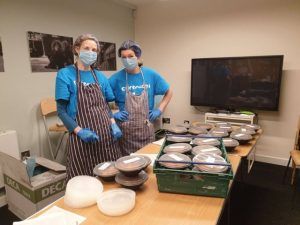 support, to people without food or cash in the wealthy capital city's pockets of destitution.   To care homes and sheltered housing. To health workers on the front lines at Edinburgh Royal Infirmary and Western General hospital.   'We didn't anticipate that but if anyone needs to eat properly it's our nurses and doctors,' says Sue O'Neill-Berest. She's the food education manager at the Cyrenians Good Food Programme  in the heat of what was a smallish teaching kitchen now transformed into a highly disciplined production line.
Last week they reached a total of 10,000 meals many of them prepared from food that would otherwise go to waste, turned into healthy curries and casseroles cooked and distributed by teams of volunteers.
It's a sign of how swiftly and efficiently this 50-year-old charity has adapted to dramatic changes. Until the March lockdown, the Cyrenians kitchen was the centre of the Cook School programme, teaching basic skills and encouraging healthy eating.  At the same time their city-wide network of Community Cook Clubs offered a chance for local people to cook and eat together. It's more fun, and it brings different groups of people together. Or, as Cyrenians CEO Ewan Aitken underlines in a recent blog: Our maxim "something to eat, someone to eat with" was borne from listening to those who experience food insecurity on a daily basis.'
With lockdown threatening increased insecurity, the kitchen continued to provide meals for some community cook club members. Then more requests began to arrive. From 26 meals to 48, then (when NHS needs emerged) 96 more and now the average turnover is 600-700 meals a day.
For more information: cyrenians.scot
(Update provided by Cyrenians)