The CRNS led Consortium of local reuse furniture charities has demonstrated this week the vital importance of working together to help people in need at this difficult time.
The Consortium has been supplying quality reuse furniture to a number of Local Authorities over the last 3 years,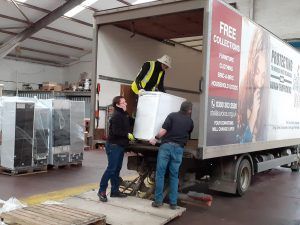 including Fife, Renfrewshire, Aberdeen and Aberdeenshire Councils.  The Councils then provide this furniture to their clients in need either through Scottish Welfare Fund grants, or their Homelessness services.
One of the impacts of the coronavirus has been that people living in shared accommodation – hostels or bed and breakfasts – are urgently having to be moved into individual homes.  Aberdeenshire Council turned to their local Consortium member Stella's Voice last week to ask if they could provide furniture and white goods to prepare 10 properties as temporary accommodation.
Stella's Voice based in Peterhead have been able to keep a skeleton staff at work, to continue to provide the reuse furniture service to Aberdeenshire Council, but their stock of reuse goods is dwindling as donations have ceased due to the coronavirus lockdown.  However, being on the Consortium meant that Stella's Voice could reach out to other consortium members, and found that the Fife based charities, Furniture Plus and Castle Furniture, both had stock that they could provide.
So, at the crack of dawn on Wednesday this week, Mark Morgan and his warehouse manager set off down to Kirkcaldy to collect two van loads of white goods and furniture to bring back to Peterhead. The next day they were back to another Consortium member, Tayside Re-users in Dundee, to collect another van load. They are now able to provide all this to Aberdeenshire Council to enable 30 people to move out of shared homeless accommodation into properties where they will be much safer from the spread of the virus.
A brilliant story that shows the resilience of the reuse sector, and the dedication of staff prepared to go the extra mile (literally) to help people in need.
Furniture Plus, based in Kirkcaldy, were delighted to swing into action despite the majority of their staff being furloughed and unable to work.
Colin Bruce, General Manager at Furniture Plus said "As a Fife based charity, we have a long history of working to support people in need in the local area.  But we were pleased to be called on to help out our hardworking colleagues from Peterhead by providing them with essential furniture and white goods for over 30 homeless people in Aberdeenshire.  We are also pulling out all the stops to ensure we can continue to work with Fife Council to supply them with quality reuse items to provide the essentials for local households in crisis at the moment."
Silv Ingram, CEO at Castle Furniture Project said "At Castle, we have a focus on supporting mental health as well as providing support to people in need in many ways. At this difficult time for many people, we have been focussing on setting up and operating our Elder's Crisis Contact help line, to ensure vulnerable older people have someone to talk to and give them advice and support. We also work with other voluntary sector organisations to help with food and pharmacy distribution. Being in a position to help our fellow Reuse Consortium members and pull together is an example of how we operate – adaptable, co-operative and go the extra mile to support the wider sector, particularly in such a crisis".
Mark Morgan, European Director at Stella's Voice, said:  "It was great to see the heart of what it means to be in the Consortium in action this week – Furniture Plus, Castle Furniture and Tayside Re-users went out of their way and worked with us to help in any way they could – even though each party is facing its own pressures during these challenging times, the commitment to help was inspiring.  So thankful to each group."
(Update provided by CRNS)