We have been working hard to diversify and move with the current situation. We knew we needed to move quickly at not only a team level, but on a logistical and planning level as well to make sure we were organised in every way to meet the predicted need for when lockdown finally hits home. We also wanted to make sure that young people were not only fed and supported, but had something to do and off the streets. 
We have been providing a food drop service in association with Dee Dees Café. We have been delivering pre-packed meals to the most vulnerable YP and their families that have been identified by the youth team. Thanks to Gerard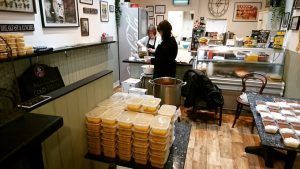 and Steph for helping me identify the most vulnerable and needy and keeping me updated with deliveries and logistics etc. Dee Dees Café have funded this exercise so far and have produced over 1500 meals, which have been delivered since the lockdown started.
We are now down to the last day of delivery tomorrow for last week's batch so I will be trying to raise more money for the coming weeks so that we can continue cooking and packaging meals for the duration of the crisis and possibly beyond. I have submitted two area partnership applications as well and the outcome of these will be known at the end of this month. I have also got a crowd funding page to support this as well.
We have been setting up team meetings via Microsoft Teams and Zoom and have had some great ideas which are already in operation, including;
An Online Mentor service – We have set up a service where YP can contact us via Facebook and request the youth worker they have the greatest rapport with to contact them. The time and date will be set for a call and the requested youth worker will call the YP to discuss any situation, problems, requests or ideas they have. The youth workers will take all necessary precautions to keep their numbers anonymous and hidden.
Cahoot Setup/FIFA Tournaments – Online games, quizzes and other activities to be set up with our groups using the various youth work teams. Cahoot is what the educational institutions are using and it is a safe and trusted interactive platform, which we can use to reach out to groups. Fifa tournaments have been requested by the regular lads groups and football groups and should be easy to set up. For all groups we are going to utilise some of the youth projects unremitted reserves to offer up cash voucher prizes to YP taking part. These will be ASDA/ Farmfoods vouchers for example, that will be in £10 and £20 formats. This will also help us get some vital funds to families we know have nothing.
Resilience Fund – I have submitted a resilience fund application that should hopefully help our online activities initiative. We realise that with the online activities for example, some families won't have the technology or equipment to take part in our interactive sessions. I want to purchase Kindle Fires so they can be handed out to YP who need them. That means as many people are included as possible. This will have both a morale boosting and educational affect as well as inclusion for our groups. I'm keen for this to also be something we can develop after the crisis so we are not just limited to physical youth project sessional hours.
After some discussions with Glasgow University they are excited at the prospect of their 2 placement students being involved in our new online activities. Both Students have done circa 130 hours but the timing of this crisis had put their placements in jeopardy. We are happy to get the students involved and we feel this could be a great learning opportunity for everyone, including our own teams.
We have had the chance to submit an application to Farehsare to become a recipient. This will be a fantastic resource for us to tap into, especially during the holidays or for any organised or pre-empted events. Our first collection was on the 21st of April.
We are now working in partnership with the G13-G14 – Yoker Community Resource Hub. The hub has really started to find its feet and we are both reaping the benefits of the close proximity partnership for all of our clients. This partnership will get even stronger as time goes on.
(Update provided by Arthur McNeaney, DRC Youth Project)