As an events professional, specialising in large-scale concerts, festivals and town centre events, work for Andy Dunlop was amongst the first to shut down. That didn't stop his creative side however, as he immediately began investigating ways in which he could still host some of the events that were planned.
The Clarkston Community Awards were due to take place in late March, and as soon as it became apparent that it couldn't happen with the same sit-down dinner event, Andy began looking at ways in which to live stream his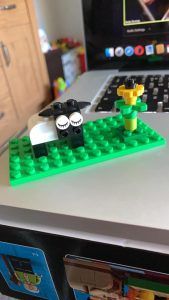 announcement of the winners. He dug out his equipment and thought he better test how the stream should work before announcing anything – so as he'd hosted multiple pub quizzes in his time as a student, he thought that would be the easiest way. On the 17 March, he streamed a quiz for friends and family on his own personal Facebook page and it proved to be a smash hit – so much so that the very next day, online subsidiary of the Daily Record, Glasgow Live, ran a piece on him! He knew he's have to host another …
Shortly after that, The One Show got in touch and asked if he would like to appear live on BBC One, quizzing the pub landlord himself, Al Murray, Ed Balls and the regular hosts. It was obvious from this point that these quizzes could no longer be held on his own personal facebook page, and thus, The Stayin' Inn (fb.me/thestayininn, Instagram.com/thestayininn) was born!
Andy says: "After each quiz we would receive countless messages from people taking part who were very thankful for the support we were offering – these could have been people isolating alone or just generally struggling with the stress that lockdown brought.
"This wasn't something we expected, but it made us very keen to continue offering regular entertainment and engagement."
Very quickly the pages grew a strong following, now topping over 11,000 members and there was a great community of regulars visiting every day, often between 700-1,000 teams taking part in each quiz. There are now over 1,200 members of the very active Community Group on Facebook, supporting fellow members with nightly Zoom calls, friendship and companionship.
Fast-forward to now, the page has hosted over 80 live events – including it's very own online dating show, Zoom To Groom (@fromzoomtogroom on socials) and has raised over £50,000 for various charities, including almost £15,000 for the Beatson Cancer Charity, who they host a weekly quiz with on a Tuesday.
Andy added: "Although lockdown restrictions are beginning to lift and we are seeing a natural dip in our regular participants, we are keen to continue what we are doing on at least a semi-regular basis. We have realised there is a desire for this sort of entertainment from people who may still be shielding, single parents or people who don't often venture out for social occasions and we want that community to be there to continue supporting them."
(Update provided by Andy Dunlop of Clarkston/Barrhead BID)