Working to prevent loneliness and isolation amongst the ageing population in Castlemilk and surrounding areas, The Senior Centre describes itself as a 'youth club for the over 55s'. The Centre builds confidence as individuals age by encouraging participation in its jam-packed programme of classes, activities, trips and parties – it's usually a hive of activity.
The Centre made the difficult decision to close on 16th of March to protect its members in the face of the ongoing Coronavirus pandemic, reluctantly preventing members from accessing what many of them regard to be a lifeline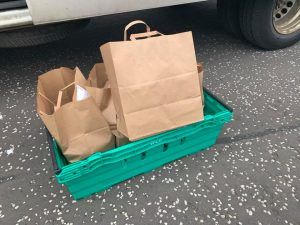 and the main feature in their social calendars.
Whilst doors are closed to members, some of the staff and volunteers are continuing the Centre's work addressing health and well-being inequalities. Normally done through the provision of a café menu offering nutritious and filling foods, staff are now cooking and delivering the members' favourite homemade meals for them to eat fresh or store at home.
Other staff members work from home making vital weekly well-being checks over the phone, reminding members of availability of meals and other help available. Phone calls are made more often to those living on their own and to those who just like a chat!
The Senior Centre is also part of the Castlemilk Together group which consists of several community-based organisations who work together to tackle food insecurity and are currently working to mitigate the impacts of the pandemic on Castlemilk's residents.
Financial support has been received through Castlemilk Together and as a result of crowdfunding and individual donations. The Centre has also received donations of food and other essentials allowing them to supplement their ongoing meal preparation and respond to emergency referrals within the community.
The Senior Centre aims to continues this work until it can reopen its doors and safely welcome members back.
The Senior Centre's Manager, Melanie O'Donnell, said of the situation "With the large majority of our members being in self-isolation and the lack of a supermarket in Castlemilk, we've found that many older adults are struggling to access food. The work we're doing is essential to addressing this and the wellbeing calls we're making are key to reminding our members that we're here for them whatever they need. We're really missing having the members in the Centre, but they've been keeping in touch with each other and trying to keep busy which is really lovely to hear. We're completely overwhelmed by the support shown to us by our members and all within the Castlemilk community."
One member said of the support The Senior Centre is providing – "My friends and I usually meet at The Senior Centre a couple of times a week so it's been hard not seeing them since the Centre has closed. I've been getting meals from the club delivered to the door and it's been a godsend. I love my weekly chat on the phone from the staff as it's good to hear what the girls have been up to but I can't wait to get back to the Centre when it's open!"
(Update provided by The Senior Centre Castlemilk)