Museums Galleries Scotland (MGS) is the National Development Body for museums and galleries in Scotland.
During lockdown being part of a community feels more important than ever, and museums and galleries have been quick in their response to help keep people connected remotely. From weekly phone calls to self-isolating museum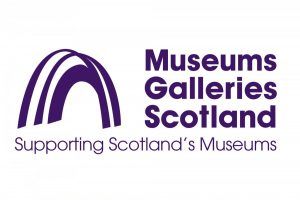 volunteers, online story time sessions for adults, to activity packs for children, the sector's response has shown the care and creativity that is central to their engagement with audiences.
MGS has supported museums and galleries to continue their important work through: distributing emergency funding on behalf of the Scottish Government, regularly updating the Scottish Government of the sector's situation and advocating for them, and sharing advice and guidance.
New funds have been created as part of a raft of measures in the first stage of MGS's three-phased approach of 'Emergency, Recovery and Resilience' to support the sector in 2020/21. £700,000 of Scottish Government funding has been used to establish an Urgent Response Fund to support museums and galleries critically affected by the Covid-19 pandemic. We have also created a fund to help museums to purchase the necessary equipment to work from home and to provide digital access to museum collections and activity.
MGS is currently running a social media campaign to highlight how museums and galleries can continue to entertain, educate and inspire their visitors from afar by utilising their existing resources.
In order to help ease isolation during remote working MGS hold bi-weekly social meetings for Scottish museum workforce, where they can come together to chat and listen to a range of speakers.
MGS is holding a public-facing awareness campaign #MuseumsSparkJoy for International Museums day on the 18th May, to celebrate the positive place museums and galleries across Scotland have in peoples lives.
Going forward we are planning for what lies ahead. We are purposefully collaborating with a wide range of organisations to support the sector to continue their active role in communities across Scotland.
(Update provided by Museums Galleries Scotland)