Every Tuesday afternoon, the hospitality lounge at Tynecastle Stadium, in the West of Edinburgh becomes a safe space for families living in kinship care. Here, we don't talk about football and the colour of your strip doesn't make a difference!
For over four years, Big Hearts the charity of Heart of Midlothian football club, has been running their 'kinship care after school club'. The charity uses the Stadium's facilities and the popularity of the Hearts' badge to support and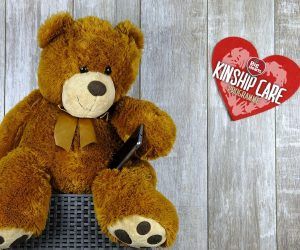 reach out to hundreds of 'hidden' families living in a kinship setting. Kinship is a form of care where children are placed in the full-time care of family relatives, usually grandparents. Although on the rise in Scotland, this form of care remains under-represented and families under supported. What Big Hearts offers is a place where families can meet people in a similar situation, share their challenges and receive relevant support associated with financial struggles, wellbeing or loneliness issues.
Everything changed with the Coronavirus pandemic. Or did it really? When Big Hearts suspended all face to face activities mid-March, before Scotland entered into lockdown, the small charity worked on finding alternative ways to continue delivering vital support to kinship families and anticipate further challenges such as lack of resources to buy food or isolation of older carers falling into the shielding group.
Ten days later, Big Hearts launched a dedicated phone line enabling any kinship carers to get in touch with the Big Hearts' staff team to receive support on parenting strategies as well as info and referrals to services available locally, including foodbanks.
To help families cope with the school closures, Big Hearts set up family tasks to complete every week to help them remain active, positive and spend quality time together. Hundreds of activity packs have been and continue to be sent out every fortnight – each including games, educational resources and healthy snacks.
What about the Tuesday after school club at the Stadium? Big Hearts is maintaining the weekly rendez-vous with a 4pm online video chat where carers can catch-up on their situation and children get to 'see' and chat with their kinship friends. Yes things have changed with the pandemic, but the special connection and resilience built over time by kinship care families have enabled them to get through these difficult times, with Big Hearts by their side.
Big Hearts Kinship Care helpline: 0131 602 4927 – kinship@bighearts.org.uk