The Maxwell centre is a vibrant, well used hub and award winning community garden in the Hilltown area of Dundee. We deliver a project that gives the local community opportunities to address issues affecting them such as poverty, debt, unemployment and poor health.
The centre provides an extensive range of vital activities and services and has the added advantage of a large, well established garden. We have a great number of our local community engaged with the project at all levels and a wide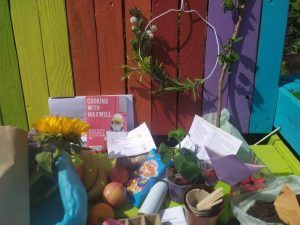 range of participants from diverse backgrounds.
Here at the Maxwell Centre and Every1's garden we are doing as much as we can to adapt our services and activities to safely provide as much support as possible during these challenging times.
We have set up a dedicated support phone line. This not only provides referrals to the local food banks but vital information on how to continue to access a wide, diverse range of support services remotely such as welfare rights, crisis grants, the Scottish welfare fund etc. We want to continue to ensure as many people as possible are accessing all the available financial support they can. We are also signposting individuals to organisations providing wellbeing support especially in relation to mental health.
We continue to stock the Coldside Community Cupboard each day with fruit, vegetables and bakery products. The Cupboard now sits outside the centre and has over 100 visitors each day from local individuals and families. We have secured additional funding to bulk buy fruit and vegetables from a local wholesaler who delivers direct to the centre. This has meant that the cupboard is stocked constantly throughout the day. We are delighted that the give and take nature of the cupboard is still at the root of its ethos.
Our garden workers continue to tend the garden on a rota basis. We are, via social media and phone calls regularly in contact with garden participants to find out how they are and to find out if they want us to plant and grow anything in particular on their behalf till they can once again access the garden. We have also set up a new Grow Dundee facebook page and blog. We are absolutely delighted with how popular they are.
In addition, each month we have been assembling 'grow at home kits' of seeds, plants, compost, and pots that we deliver locally to families that can no longer come to the garden. Each kit also has a variety of garden themed activities to do at home and some fresh fruit. Last month 100 May grow at home boxes were distributed to local families.
(Update provided by The Maxwell Centre)