As Inverclyde's largest housing association and a key community partner the RCH Group has, since the first day of the Covid-19 lockdown, been active in supporting the area's most vulnerable residents.
Through volunteering, making support calls, successfully applying for support grants and maintaining essential services the 350 staff at River Clyde Homes and Home Fix Scotland have done sterling work across the area.
As was the case for all housing associations; the pandemic outbreak brought significant challenges that had to be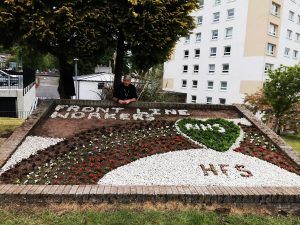 overcome to deliver those services people needed most.
From the outset, it was critical to find a way of delivering emergency repairs, statutory checks such as gas safety and deliver caretaking and warden services safely. The RCH Group manages approx. 5600 homes, including 13 multi-storey blocks and eight sheltered housing complexes. The health and safety considerations of staff and customers was paramount in all of this.
Meantime, the army of 'back-office' and support staff kicked into action, working from home, keeping the cogs turning and proving that technology really can make life easier.
Housing officers immediately began making outgoing support calls to over 3000 identified vulnerable customers to ensure that they had the services they required. The team identified some people who were struggling and may otherwise have disappeared under the radar. But whether it was something as simple as requiring a prescription being picked up, or the prospect of debt rearing its head as a result of the economic situation, they were happy to help or signpost them to local support networks.
Within a week, our staff were volunteering with local partner organisations to deliver meals, and other supplies to customers who were unable to leave their homes.
On a more critical matter: staff at Home Fix Scotland managed to prepare 22 properties for let for homeless residents or those who found themselves subject to domestic abuse.
Inverclyde remains a fundamentally close-knit community and the activities of our teams have been appreciated across the area. Our staff know many of our customers from childhood and understand the situations many find themselves in.
The Grounds Maintenance team at Home Fix Scotland even planted a floral tribute to key-workers in a large, raised bed at a prominent location at one of the high rise blocks in Gourock.
Recently, successful bids have been made to Cash For Kids to supply food packs to families with children who are struggling financially and a supply of brand new clothing and baby goods has been distributed.
Significantly, in partnership with Inverclyde Community Action Response Group (ICARG) we were successful in an application to the Scottish Government's Wellbeing Fund for £100,000. This grant will allow RCH and ICARG to partner up and deliver much-needed services in our communities during the COVID-19 crisis. A range of projects will be delivered including enhancing meal provision, tackling social isolation and loneliness and up skilling staff in mental health support.
Our Governance Team even took the opportunity to consult with our Arm Chair Critics over satisfaction with the level of service during the Covid-19 crisis. It received an overwhelming 'thumbs up'.
Richard Turnock, who was appointed as RCH Group Chief Executive in April, said: "I am really proud of the work done by staff across the Group during what has been a challenging time for the entire sector. Our staff have not only maintained the critical services but have gone that extra mile to ensure that the most vulnerable in our community receive the additional support they require. The Covid-19 crisis has been a steep learning curve for us all but the willingness and sheer big-heartedness of our teams is something that we will remember for a long time to come."
(Update provided by River Clyde Homes)