Four years after embarking on an ambitious project to deliver four affordable homes at Ulva Ferry on the Isle of Mull, Mull and Iona Community Trust (MICT) is delighted to hand over keys to its new tenants today, 19th May.  Just 10 years ago, the local primary school was threatened with closure, and now – thanks to the efforts of the community – Ulva Ferry is well on its way to a sustainable future.
Following years of feasibility work and fundraising to purchase land and meet the construction costs of this £1.3M project, four houses have been built by modular contractor The Wee House Company, to meet an acute housing need on the island, and to support the local primary school roll.  31 applications were received and a locally agreed, points based, allocation policy was used to choose tenants.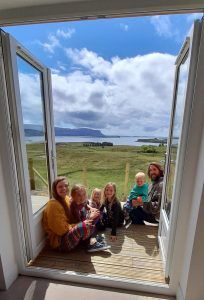 Working closely with Ulva School Community Association (USCA), MICT identified an ongoing housing need following the completion of their first affordable houses in 2017, including a need for smaller houses for young people and older members of the community, as well as family sized homes.  Tenants have the comfort of secure tenancies, affordable rents, and high quality, energy efficient homes. While MICT is a registered private landlord, it is working with West Highland Housing Association, which offers assistance with allocations, management support, and advice to tenants.
All four new tenants have experienced significant housing need and are thrilled to be moving into their new homes and being part of the Ulva Ferry community.  As one new tenant commented, 'the positive impact MICT have had on us and other families can genuinely not be underestimated, and securing our home is truly life changing.'
The delivery of these houses will secure the future sustainability of the fragile Ulva Ferry community, increasing the resident working age population by 10% and the school roll by 50%.  From August there will be 15 primary age children at Ulva Ferry, of which 11 will live in housing owned by MICT.
MICT Housing Project Officer, Helen MacDonald, commented, 'we are delighted to hand over the keys to these new homes today.  The number of applications received confirms just how desperate the housing situation is here on Mull, and we a glad to be able to make a small difference.'
Jennifer Higgins, Managing Director at The Wee House Company, comments: "It's been a pleasure working with the proactive team at MICT, delivering these much-needed affordable homes for the people of Mull. Delivery of the 4 high-quality homes, in such a short time frame, to a remote location, is testament to the positive attitude of all involved in this project and to the benefits and efficiencies of off-site modular construction. We're delighted to hand these houses over to their new residents this week and wish them many years of happiness living in our houses".
USCA Convenor, Josh Liddle, added, 'it is fantastic to welcome four new households to Ulva Ferry, which will really boost local jobs and our primary school roll, and make for a stronger community overall'.
This project was made possible via grants from the Scottish Land Fund, the Scottish Government's Rural & Islands Housing Fund and Argyll & Bute Council's Strategic Housing Fund, a mortgage from Ecology Building Society, and many local donations.  Funding for the Project Officer's post to manage the delivery of the project was provided by The Prince's Countryside Fund, Nationwide Foundation and Highlands & Islands Enterprise.  Invaluable support has been provided by Rural Housing Scotland, Community Land Scotland and West Highland Housing Association.
Thanks to the innovative modular design, construction on site by The Wee House Company took just 7 months and was completed on budget, despite taking place during the Covid-19 pandemic and a very cold winter. Each house is made of between 4 and 6 modules, depending on the size of the finished home and 90% of construction was completed under factory conditions in the company's Cumnock facility, meaning site preparations could be completed in tandem. From delivery of the modules to residents moving in took a matter of weeks.