Lia Ghilardi is an international expert on the interplay between arts, culture, heritage and urban development. In this article, she considers the recent experience of Portas Pilots Test Towns, and explores what lessons we can draw about the regeneration potential of the creative arts and innovative use of temporary spaces for England's struggling town centres and high streets.
Up and down the country, we are seeing signs of the effects the recession is having on people's lives and future prospects.
With one in seven shops lying empty in town centres, the shortcomings of the big regeneration projects of the last decade and subsequent development initiatives — synonymous with growing economies — are there for all to see.
Short-term investment decisions, an increase in out-of-town shopping, and associated reliance on the car have eroded the quality, identity and resilience of high streets across Britain.
Desertion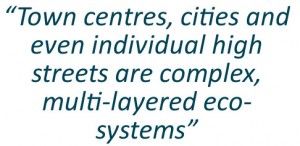 During the boom years high streets seemed to flourish while at the same time, and quietly, serious damage was being done to independents by large chains squeezing them out. Now, according to the British Retail Consortium, only 40% of our total spend takes place on Britain's 5400 high streets.
People have abandoned the high street not just as a shopping destination, but also as a destination for social mixing.
Anti-social behaviour ­­­— partly fuelled by binge drinking and a highly commercialized 'night-time economy' — coupled with the closure of many local public services such as libraries, community centres and doctor's surgeries — means that many British towns currently lack even the basics of what's needed in order to support a vibrant civic life.
The Policy Response – Portas Pilots
On a policy level, for the past several years, the Conservative-led coalition government has been busy commissioning research about how to re-imagine urban spaces so that life is, once again, injected back into town centres. A plethora of funding measures have followed, but the most popular by far has been the Portas Pilots.
Retail expert and TV personality Mary Portas is the UK's foremost authority on retail and brand communication. In May 2011, she was commissioned by the Prime Minister to lead an independent review into the future of high streets. In December 2011, she delivered her report outlining 28 recommendations. In response, the government launched a pilot programme whereby 12 towns in England had the opportunity to become Portas Pilots – each had to setup a Town Team to manage actions and the investment of up to £100k of public funding. In total more than 400 towns applied to be a Portas Pilot and 27 teams were selected between the first and second round, announced in July 2012.
The purpose of this high-profile political initiative was to encourage local partnerships and consortiums to come up with innovative ideas about how to transform their local high street into a social place offering new services and job opportunities. A tall order, you may think, given the financial constraints imposed on local authority spending by the same government two years ago.
In fact, a 2013 BBC investigation uncovered evidence that only 7% of the money allocated through the Portas fund has actually been spend by the Town Teams. Some Town Teams, in addition, display a narrow understanding of the positives of a place and — feeling overwhelmed by the scale of the task ahead — have become increasingly risk averse.
As a result, even the little public money available for healing those places badly affected by the downturn effectively continues to sit in council bank accounts while communities are getting progressively more demoralised and disconnected.
Cultural DNA
But not all is doom and gloom, and in parts of the country exciting initiatives are springing out of local communities, which are creating and implementing their own vision of how a place should develop.
Such proactive approaches are based on the notion that town centres, cities and even individual high streets are complex, multi-layered eco-systems. Each has distinctive urban textures, working and living routines, and modes of social interaction.
Some regeneration stakeholders are beginning to recognize that retail is only one part of the story and having in-depth understanding of both the 'cultural DNA' and associated cultural assets of a place is a basic requirement for sustainable and effective urban improvements.
Community Creativity
Putting people at the centre, and finding creative ways of mobilizing existing cultural assets, both tangible and intangible, is the way the Liskeard Town Team — one of the successful Portas Pilots — has approached the task of regenerating this small town in the West of England.
The strategy of the Town Team has been to use a programme of cultural events called Secret Fridays, as a tool for getting the local community involved from the beginning of the pilot. The initiative is aimed at increasing footfall and activity in the town (especially in the evenings), creating trading opportunities for local makers and traders, and getting young people (especially those not in education, employment or training) involved in organizing, delivering and policing events.
Secret Fridays is a monthly programme of cultural events exposing audiences to different cultural activities. These range from face-painting workshops, masque making to street masquerades, fire dancing, or film extravaganzas. Since it started in early 2013, the programme has gained momentum and attracted people back into the town centre. Traders show their support by giving discounts on tickets for the cultural events to those buying locally.
The programme has brought in further resources from Arts Council England and skills funding agencies, who can see the effect the programme is having on young people's capacity to learn work skills, or progress to further learning.
Another example of a successful Portas Pilot is in Bedminster, a suburb of the city of Bristol in the South West of England. Rooted in the Greater Bedminster Community Partnership, the pilot's ambition is to get the creative economy going by using a former tobacco factory and abandoned shops as clusters of affordable space for artists and start-ups working on developing local products.
The Town Team led on the creation of a BID (Business Improvement District) which has secured £400k (a respectable amount of money in hard times) to be spent in the next five years to enable the development of a bottom-up marketing campaign to support local independent shops; the implementation of a community-led greening strategy featuring the creation of pocket parks, green walls and vertical gardens among other initiatives; and projects such the establishment of a street art trail, turning lamps and other street furniture into art projects; and the decoration of shop signs (building on the history of the area).
The Bedminster pilot stands out for both its focus on the local community's needs and aspirations in relation to the arts and culture and for its capacity to harness opportunities to make the town centre less of a mono-commercial destination and more of a social, convivial place for the local community to work, meet and play.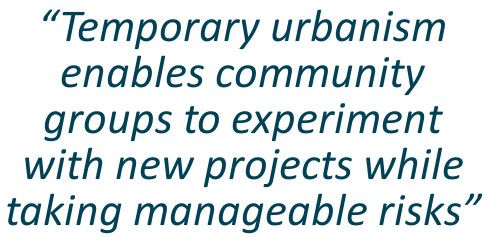 Temporary Spaces, Enduring Solutions
Every town centre is different and has its own individual texture, routines and uses.
When embarking on town centre, or neighbourhood regeneration for that matter, it is important to allow enough time at the beginning to design creative ways of mapping and rediscovering the resources, whether physical or human, that are already there, and then building on them.
Opening up underused buildings and spaces through culture-led 'meanwhile uses' is a good place to start and the examples featured in this article have employed such techniques productively.
Temporary urbanism of this kind enables local community groups to experiment with new projects and enterprises while taking manageable risks.
Such collaborative 'laboratories in real-scale' are flexible tools capable of kickstarting change without resorting to comprehensive masterplans, thus challenging traditional forms of place making in favour of innovative forms of localised planning.
Of course, this is only part of the story, only a glimpse of what is possible when the key values of co-creation and planning culturally are mobilised. Localised planning starts with cultural planning.
An expanded version of this article originally appeared in Municipal World, Canada's journal on municipal government.