Since the beginning of the COVID-19 related lockdown, Apex Scotland has moved swiftly to adapting our service delivery methods to be remote in nature, to ensure that service users, existing and new, can continue to access our support services with as little barriers as possible.
The lockdown period coincided with the start of the financial year, and therefore, the start of the contractual period for most of the services we deliver. Apex has been successful in retaining the vast majority of our contracted services, even whilst entering a period of uncertainty and the requirement for diverse nature of delivery. We would like to take the opportunity to thank our funders and stakeholders for the quality and speed of their communication with us and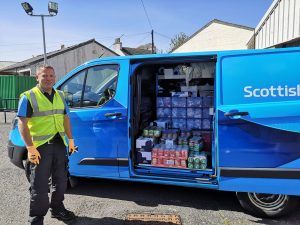 for protecting these valuable services for service users, and also staff employment.
We have adapted successfully to a remote orientated method of service delivery, with our skilled mentors retaining contact with service users through phonecalls, text check-ups, video calls and participation in group support and training opportunities online. We have seen a rise in the job outcomes we typically achieve for service users and many are coming out of their comfort zones by trialling mock video call or telephone interviews. Since the beginning of lockdown, we have supported 8 service users to gain employment. We continue to be heavily involved with our Justice partners, supporting individuals serving community orders, prison throughcare and those identified as being eligible for prison early release. We have also seen an increase in the need to 'just be there' at the other end of the phone, to check in on people's wellbeing, and this is often a lifeline for many.
In two particular parts of the country, we have been busier than ever, responding to challenges that our service users are facing during this time when they are void of physical contact and movement, and where lack of access to services is a case of life or death.
Apex Highland
The services Apex operates in Highland are dominated by individuals with substance misuse issues and the support focuses on sustaining recovery. Services in turn, support individuals in the criminal justice system, whereby the cycle of drug and alcohol related addictive issues, feed offending behaviour, or at least, damaging, chaotic lifestyles.
Ongoing access to the community recovery groups, including recovery peers, and individual professional mentor support that we offer, is critical to our service users at this time, and this is self-declared. Therefore, the Apex Highland team are currently delivering Smart Recovery Groups online, daily, and conducting this over telephone for service users who do not have internet access. These sessions help individuals to continue to implement Smart tools and techniques day to day. The quality of the skilled intervention has been recognised as these will now also be delivered through the Smart UK website. This intervention is preventing, and also helping individuals to manage relapse.
Apex Highland also continues to offer COSCA approved Person Centred Counselling and Psychotherapy sessions weekly, with over 30 hours provided since lockdown. In addition, breathing and meditation sessions are being offered on the zoom platform, to assist with overall wellbeing.
The Apex Highland partnership with Citizens Advice Bureau, which recently gained funding, for an Apex allocated resource in Inverness, has also been implemented, with 40 hours of service user support and guidance issued already. This has been responding to a multitude of issues that individuals are facing in relation to COVID-19 with ever evolving changing personal circumstances, including making benefit claims, which service users require help to navigate through. One service user commented "I am thankful for my mentor referring me to this service. I have felt like a weight has been lifted off my shoulders and my money worries are beginning to sort themselves out!"
Apex Highland has just found out the fantastic news that the team has been successful with their funding application to the Community Wellbeing Fund, which will strengthen and drive service user access to these services even further.
Apex Dumfries and Galloway
In Dumfries and Stranraer, Apex operates Trussell Trust foodbanks. There has been high demand for food parcel supplies and therefore, the requirement to co-ordinate these. The local teams have been experiencing new levels of support including incredibly generous cash donations from the local communities and businesses. They have also been gaining additional practical support from a surprise source which has been very welcome!
Currently unable to carry out their usual jobs, Scottish Gas employees approached us, and have been volunteering with our foodbanks. With the demand for foodbank provision showing no signs of waning, this assistance has been very much welcomed by our teams and the volunteers have been put to work using their vans to clear much needed space in the units and collect supplies, shopping for stock using money they have raised, and will next be turning their hand to stock taking – with deliveries being received from Tesco every week this is a constant task which takes a lot of time and focus. The local Apex manager comments "We are incredibly grateful to our new volunteers, some of whom are travelling quite a distance to help. It's good to know that even in the most challenging of times, there are opportunities to make new friends and we can keep providing support to those who need it most".
Apex continues to have mentors with capacity to support service users across the country. If you would like further information or know of an individual who would benefit from support, please check out our website www.apexscotland.org.uk for local contact details.
(Update provided by Apex Scotland)