In the face of the COVID-19 emergency, people worldwide are united in efforts to protect the most vulnerable in our communities. Highlands and Islands businesses, social enterprises, community organisations and public services are working to tackle the life-changing impacts of the pandemic for their own areas and further afield.
The staff at Highlands and Islands Enterprise (HIE), working from home across the region since the lockdown, have continued to provide a frontline service to our wide range of clients. We're part of a joined-up national response and are available to offer guidance on accessing the emergency assistance available through the Scottish and UK governments.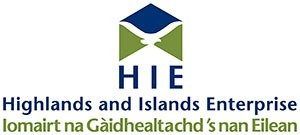 On our COVID-19 web page we've published advice and links to further information on the range of measures tailored to both communities and businesses.
We are also here to provide practical guidance and support to those looking at ways to adapt their community enterprises and activities.
Across the region we're seeing a lot of innovative action from within communities. Local businesses and community groups are using their skills to help tackle the crisis. Medical research firms at Inverness Campus are delivering clinical testing and personal protective equipment (PPE), for example; and artisan producers from across the region with access to alcohol switched to making much needed hand sanitiser.
Community groups are drawing on their existing networks to mobilise volunteers, and their activities are providing vital services which keep people safe.
When news of COVID-19 broke, the Galson Estate Trust, Urras Oighreachd Ghabhsainn, in Lewis was able to approach every one of the households in its 22 villages, to put arrangements in place for the lockdown.
The Trust's manager, Lisa Maclean, says their plans have enabled neighbours to help each other out. She believes the community's actions could create a legacy long beyond COVID-19. Find out more about their activities here.
The full impact of COVID-19 on businesses and communities in the Highlands and Islands is as yet unknown, and the global economy will be different as communities come out of lockdown.
We and our partners are carrying out work to prioritise resources and gather intelligence that will help inform future policy and support mechanisms to maximise our resilience and recovery.
(Update provided by Highlands and Islands Enterprise)