ACVO – Aberdeen's 3rd Sector Interface – continues to operate as business as usual during this current pandemic.  Team ACVO continues to be there for our clients, members and stakeholders, providing information and support where possible and delivering virtual meetings and training where we can. Although working from home, all our team members remain contactable by phone, email or through WhatsApp and Facebook Messenger and we will continue to be there for Aberdeen's 3rd Sector.
Since the first week of lockdown, ACVO have created and distributed a COVID-19 Directory, updated daily. The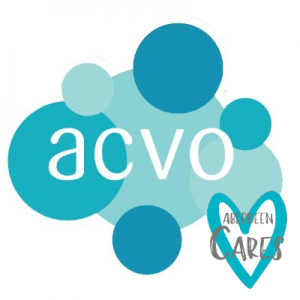 directory is full of information and advice for individuals, groups and organisations within the City on various issues which may affect from benefits to volunteering; funding to health.  The directory to date has had over 7,000 views and has been warmly received by the sector.  We have also launched a new COVID-19 Briefing sent weekly to over 2200 subscribers.  This new briefing includes all of that week's new entries to the directory delivered straight to our subscribers inbox.
Here at ACVO, the team have been overwhelmed by the communities response to COVID-19.  From organisations stepping up and delivering new services to the thousands of volunteers helping out in our NHS or in their local community.  In response we have launched our new Aberdeen Cares Campaign.
Our campaign looks to spread a little joy in these dark times by giving a shout out to organisations and volunteers or spreading individual stories on how they are responding to the current pandemic.  So far, we have had involvement from Aberdeen Cyrenians, Aberdeen Football Club Community Trust, Shmu and promoted the newly launched Dear Friends scheme which looks for children (and grown-ups) to write a letter to be sent to residents shielding or experiencing social isolation.
(Update provided by ACVO)