The continuing impact of Covid-19, and the measures necessary to contain the virus, have changed our lives. The impact on the cultural sector is extremely challenging, and ongoing. 
Throughout this public health crisis, cultural and creative activity has sustained many of us – as audiences or participants, across the country and across artforms, from live performances and curated activity to classes and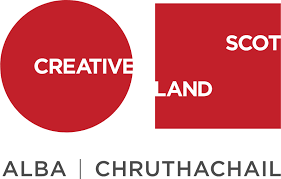 workshops.  You can take part in a #covidceilidh and #GetCreativeAtHome. Many creative organisations are providing activity packs for their communities, who are then creating sculptures or making music.
Across Scotland, creative people and organisations are providing more than creative sustenance. They are growing, making or delivering food, from Edinburgh to Angus and beyond. Protective equipment for healthcare workers is being made in arts departments, by arts collectives, and with 3-D printers donated by arts organisations. Pen pal schemes led by creative organisations connect people, at a time when many are isolated.
These people and places who help us to learn, to love, to have fun, to understand ourselves and others, who bring us together, are vital parts of our communities.  Creative Scotland will continue to work with partners to do all we can to help them sustain and adapt, as our creative communities rebuild, renew and rethink society. We will continue to advocate for further resources for the cultural sector, and gather evidence and information to help us do so.
As this crisis continues to change our world, we have made some changes in Creative Scotland, to better support those working in the cultural sector at this time.  A revised project fund, Open Fund: Sustaining Creative Development , has now launched. This Fund provides flexibility to help individuals and organisations working in the cultural sector to continue creating work, and to adapt where needed.
Although our Creative Scotland and Screen Scotland Bridging Bursary programmes are now closed, these were designed to provide emergency funding for those in the most immediate financial need.  In the first phase of the Arts and Creative Bridging Bursary programme,  865 freelance artists and creative practitioners across Scotland received a total of £1.5million, from Creative Scotland's National Lottery and Scottish Government funds.
We have assured grant recipients that all funding awards already committed will be honoured – regardless of whether the funded activity is cancelled, reduced or rescheduled.
Further information on support for the cultural sector is available in our Resource Directory for COVID-19.
(Update provided by Creative Scotland)