The onset of Covid-19 rapidly altered life as we had come to know it. For so many it brought personal and professional uncertainty at an alarming pace. The rate at which Third Sector organisations and funders have adapted their services in response to the crisis has been equally momentous. Our sector may be diverse, but the thread that runs through it is an unwavering focus on making a difference to people's lives.
Like most funders, providing reassurance, flexibility and support to funded organisations so that they can sustain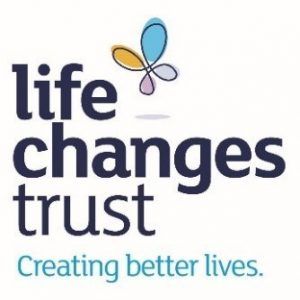 this focus has been a priority for the Life Changes Trust. Our work, however, extends far beyond our relationships with organisations who deliver transformational projects with young people with care experience, people living with dementia and the unpaid carers of people living with dementia. We too are committed to putting the people we're here for at the heart of everything that we design and do. Even though we can't be in the same room together (and, wow, we sure do miss those cups of tea and all that Haribo), we are determined not to lose sight of co-production principles as we continue to deliver our work during this pandemic.
The recent Keep Well Fund for young people with care experience is a good example of this. As the public health situation escalated in March, both the Trust and the members of the Trust's Advisory Group (each with their own experience of the care system) recognised the acute impact that social isolation and uncertainty could have on young people with care experience. We knew that lockdown would deepen inequalities and exacerbate existing issues around digital poverty, mental health, physical wellbeing, loneliness and much more. Informed discussions between Trust staff and our voluntary advisers took place via evening Zoom meetings where we considered gaps in support for young people, available budget and the key features we'd all want to see in a new Fund.
Within 3 weeks we had co-produced and launched a light-touch, individual grants initiative offering up to £250 to young people with care experience to improve their physical and/or mental wellbeing during this crisis. The Keep Well Fund gave young people (sometimes with the support of their key worker) the space to express themselves and tell us in their own words what would enable them to improve their wellbeing. We were completely overwhelmed with the response. We made every effort to fund as many young people as possible, and with the support of the William Grant Foundation, the Esmée Fairbairn Foundation, the Cattanach Trust, Cycling Scotland and Inspiring Scotland, we are pleased that we have been able to support hundreds of young people to stay connected, engaged and involved in doing things that they enjoy. We've funded bikes, games consoles, art supplies, books, outdoor play and learning activities for young children, board games, mobile phones, televisions, trampolines, tablets, laptops, baking equipment, cameras, running shoes and so much more.
Data collected from the Keep Well Fund amplifies many things we already know about the complexities faced by young people with care experience, and the need to do more to support them in their lives. It also gives us further insight into the creativity, ambition, determination and kindness of young people amidst it all.
The input, leadership, challenge and reassurance from the Advisory Group at every stage of the Keep Well Fund process was invaluable. We coproduce with confidence and we know from our work together that a relatively small financial contribution can have a big impact when young people are trusted to make their own choices about what will make the most difference to them, including, where possible, controlling their own budget to make this happen. The response to the Keep Well Fund and the conversations we're having with young people is what motivates us to keep pushing for transformational change.
As one young person said, 'Oh how exciting! I'm buzzing!'