One of our current priorities at SFHA is in promoting economic opportunity and investing in the communities in which our members Associations operate. 
As the current COVID-19 pandemic has already begun to place a large strain on the health, employment, and income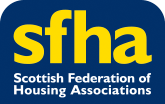 of many households, the restrictions in place during the current lockdown, has obviously severely limited the way in which services can be carried out by our members.  As community anchor organisations, even in very challenging situations, social landlords retain important information and infrastructure that can enable the provision of some continued level of support in their communities, and we have heard of some great examples of that so far.
In terms of responding to this crisis on members of our communities, many Associations are taking an active part to bring together community groups and services, including foodbanks and volunteers providing food and pharmacy deliveries to those highlighted within the groups as most health risk and therefore housebound during COVID-19 crisis
Larger Associations such as the Wheatley group have managed to do this successfully using the infrastructure and services they already provide, by increasing resources, staffing, and volunteers towards this delivery. In areas where this is logistically not possible and they have a tenant base, they have also looked to support smaller community groups carrying out work around food provision.
There are also examples of Housing Associations using their community centres which are currently closed for the public to directly provide foodbank or storage facility to facilitate deliveries of food and prescriptions within the community. West of Scotland Housing Association, and Glen Housing Association in Fife, have both managed to embed this in an updated service delivery process to support vulnerable tenants.
Partnership working alongside, promoting, and referring tenants to food poverty programmes, and community hubs where set up by Local Authorities is also important for many smaller Associations. There is often a need to link up local services in order to provide a combined and more efficient community resource, which has been done effectively by Govan Housing Association.  Through informal partnership with Glasgow City Council, The Salvation Army, Govan Youth Information Project and Make & Grow to deliver a food initiative to try and ensure the community have access to daily food in Govan.
To provide support for emergency circumstances, many Associations have redirected funds and projects to include small hardship funds for tenants in need.  This can be set up to help essential costs such as fuel, nappies, alongside food and medicine provisions
We have provided our member association with data analysis highlighting tenants COVID vulnerability, with areas or groups most likely in most need within each the local authority.  Using this as a guide to where funds would be distributed, we are considering ways in which resources could cover fuel or shopping vouchers to tenants in most needs within those areas by the relevant housing associations.
SFHA are currently working with CEOs through several communication streams to provide guidance and supporting them to answer as many enquiries as possible.  We are also providing regular and updated Briefing Notes for our members, with one around the humanitarian response and resources available due to be added within the next week.
(Update provided by SFHA)