When Dunoon Burgh Hall closed its doors to the public in March it was a major blow to our organisation and to our community.  We had to cancel all forthcoming events, closing our café, gallery and theatre.
However, the staff and board have responded to the crisis with two brand new areas of working, which will keep our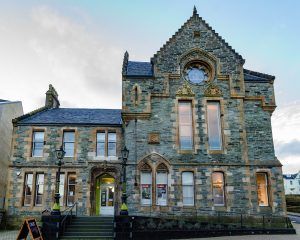 beautiful hall and our staff at the heart of the community while we are without our audience. We wanted to continue to operate at the heart of our community and where we are needed most.
The Burgh Hall team have been collaborating with local social work and support agencies to develop a Community Kitchen project to help support the physical and mental health of our local community. The project is delivering low cost nutritionally balanced meals to vulnerable people and those who are self isolating in our community. Through this we are developing new partnerships with food banks and other third sector agencies in our area enabling vulnerable people in our community to eat well, to feel important and cared for, reducing anxiety and desperation at this difficult time.
Alongside this we are developing a range of free online creative opportunities called The Show must go Online, maintaining employment for our creatives– those who have contributed such vital work to our organisation over the years. This includes live streaming of professional theatre; online songwriting workshops for young people and musical play cafes for children; creative activity sheets and how to videos; studio visits and artist demonstrations; research and heritage programmes; a community arts video streaming service; and establishing a vital online meeting space for community groups to meet and socialise.
In doing this we hope to entertain and engage our community, retaining vital links with them during this period of isolation.
(Update provided by Dunoon Burgh Hall)