In its 30 years of operating from its home in Crosshill, Fife,  BRAG has expanded from Crosshill to now cover all areas of Fife with services also reaching out into Tayside and the Forth Valley areas. With our own Community Enterprise Centres in both Crosshill and Methil supporting us a local enterprises, diversity and adaptability have been the key to the organisation's longevity, and this has never been more apparent than right now during this coronavirus lockdown.
With most of our 25 staff working remotely we continue to deliver our employability, enterprise and family support to our clients by embracing all things digital – as a result our clients tell us they feel supported through an extremely anxious time. A measure of this adaptability is the fact we have only furloughed 2 staff with 1 already back at work and the second coming back next week.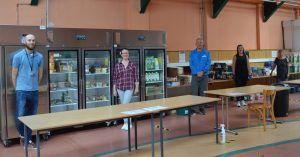 Our Levenmouth teams based in Methil have also been assisting Fife Council by delivering emergency food parcels to the most vulnerable people in the area as part of a partnership arrangement with Fife Council's Communities' team. In Crosshill  we have recently established the pantry@brag which is currently operating as an emergency response alongside the Benarty Foodbank also based at BRAG providing free emergency food parcels to residents in need across the Benarty (Lochore, Ballingry, Glencraig and Crosshill) areas of Fife. This initiative has been jointly funded by The National Lottery Community Fund through Awards for All , Benarty Community Forum, Fife Council, Coalfields Regeneration Trust, Foundation Scotland and the Scottish Government's Response, Recovery and Resilience Fund with the whole facility going from conception to reality in 10 short days.
We have to acknowledge that we have also had help from several local businesses such as Baynes the Bakers, Benarty Carpets and Flooring and Scotstar Resin Flooring who all stepped in to assist us in the set-up of the site. Our tenant The Muffin man has also kindly helped us to provide ready meals and recipe kits as well as assisting in the creation of instructional videos showing us at home how to make affordable, nutritious family meals. By our third week of operation we were already supporting 190 families a week. We have also been supported by local volunteers who recently went around the local streets collecting donations for the pantry and foodbank which demonstrates a real community spirit.
When the current crisis ends, we will continue to operate the pantry@brag as a community led food initiative run by the volunteers but on a membership basis where they pay a small fee. The plan is that this will provide an affordable alternative for those on low incomes to not only feed their families but also for them to be involved in the operating of the pantry thus promoting social inclusion and community teamworking.
We see our work as the start of a real journey and feel that we are now better placed in the community to help support genuine community led recovery. This in part is due to our experience in helping people through the hard times whilst benefiting all when all is good.
Brian Robertson-Fern Managing Director of BRAG Enterprises said: "During these unprecedented times our communities need those who are fit and able to pitch in and help. BRAG have been proud to do its bit and the testimony to everyone involved is that no one is left behind." He added "Benarty has true community spirit and we are proud to be part of it!"
(Update provided by BRAG Enterprises)