When football was suspended due to COVID 19 0n March 14th, the Club was left in a parlous state. All playing staff and the vast majority of the non-playing Staff including all Community Coaches were furloughed with no idea of what the future holds.
From adversity however has come a real togetherness involving Club, fans and the Cowdenbeath Community which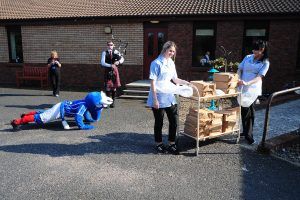 has seen the community step up with donations to assist the Club financially.
In return, the Directors and the remaining staff at the Club have worked to give something back in return to its community such as,
Using the Club Mascot, Bluebell the Coo (Cow) to take part in community initiatives, such as running round Cowdenbeath on Easter Sunday along with other similar "Superheroes" to interact with local children from their windows.
The Club Directors paid for Fish and Chip Suppers to be delivered to all the local Care Homes for Staff and Residents and these were delivered by Bluebell accompanied by a piper to pipe in the Haggis (Supper)
Through the Clubs Facebook and Twitter sites, The Club has invited and published Birthday Wishes to fans and members of the Community with a message from loved ones and the Club.
The Club staff and fans are participating in a "One for the Road" initiative where each participant is stocking a box with an extra item bought at each weekly shop. When COVID restrictions allow, the boxes will be gathered at the Club Stadium before distribution to those in need.
The Club ran an online sweep for the televised virtual Aintree Grand National which was so popular, there were three sweeps running for the race.
The Club is regularly posting footage of past games inviting fans to post their memories of the games.
(Update provided by Cowdenbeath FC)