The Urban Fox Programme is a grassroot youth organisation based in the East End of Glasgow. Like many other thirds sector projects, our service stopped overnight and the families and young people we work with could no longer attend the weekly sessions offered.
As a small project with 1 full time member of staff and 6 sessional staff we did not know what the next few weeks or months lay ahead. What we did know is we need to stay connected with our communities and offer any support we could.
The North East of Glasgow is rich with many voluntary and third sector groups. The response to COVID was quick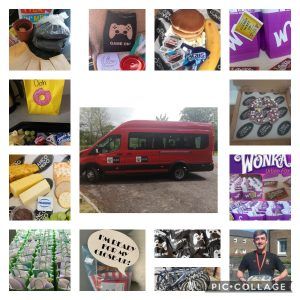 and partnership working effective, with many groups looking at food support or help with bills in the early weeks of this pandemic. Rather than duplicating what was already going on and using some of the Holiday Food Programme funding from Glasgow City Council we looked at delivering some healthy snacks and an arts activity pack to our 5 communities we worked in. This initially was to 150 families who attended our sessions. The response was overwhelming from our young people and families. A couple of posts on social media and families in communities stated to request support for their families. Many of our children live in tenement flats, locked down with not even a garden space to play so for many the activity packs was a welcome boost and to remind them we are still thinking about them during these tough times.
As you might expect the requests for help had grown, and we quickly looked for some extra funding to help respond and expand the number of families we could help. Thankfully a number of funders and partnerships emerged and we were able to increase what support we could offer over the next 14 weeks.
Since the restrictions have come in place we have worked in many communities and by the end of June we will have delivered 6155 activity packs & food snack packs. Activity packs were arts based packs which were sourced and created by our staff team & volunteers at home who made them for delivery each week. Each pack had a theme with fun colouring sheets and create your own gumball machine, monsters, UFO, Simpsons characters, Willy Wonka Lollipops, Super Mario Characters or plant your own sunflower. All activity packs were accompanied by a food activity such as a packed lunch, family picnics, make your own chocolate pizza, pancake stackers, cupcake decorations, cheese boards, rice crispy cakes or have your own movie night pack with popcorn and treats.  Local communities in Barlanark, Calton, Carmyle, Castlemilk, Dennistoun, Haghill, Parkhead & Tollcross have been receiving activity pack for young people on a weekly basis.
The project also received request for help from older adults in the Calton Community from a resident. They heard about the kid's packs and said "what about us, can you help us while we are shielding" Absolutely we said and we managed to make 80 packs up for older people shielding in the Calton. We also worked with a local supplier and delivered afternoon teas for these adults. The response was fantastic and again this grew arms and legs. So much so we have now delivered 1750 afternoon teas over the last 3 months to older and vulnerable families in Parkhead, Calton, Tollcross, Barlanark, Dennistoun, Haghill  and Carmyle. Residents received a range of afternoon tea, pancake platters, cheeseboards and picnics. This was supported through funding via local housing association's in Parkhead, Tollcross & Milnbank. Our team of volunteers and local elected members delivered to these tenants weekly.
In addition to activity packs and afternoon teas, we have worked with GCVS and the local response team to provide pet care service for shielding adults. So far our volunteers have taken a dog to the groomers, provided pet food for families including parrot food and dog walking support.
To keep active as restrictions have eased we have opened up our cycle loan scheme which is a free cycle loan for adults and children who can borrow a bike for a week. So far over 40 families have been supported over the last 4 weeks and this service will continue over the summer
To find out more about Urban Fox Programme, please get in touch with the project Manager Debbie McGowan – Email Debbie@urban-fox.org
(Update provided by The Urban Fox Programme)