Our vision is a community where everyone has an equal opportunity to be happy, healthy and thriving. In the midst of these strange and often worrying times, the pursuit of this vision has become more important than ever.
Spring is a vital time in our Community Gardens as we transition out of winter and sow seeds for the year ahead.  In a normal spring week, 100 or more people would be here. Folk would be tending plots and watching seedlings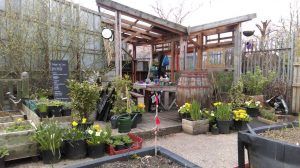 sprout, and the sound of joyful children enjoying an outdoor play session would be all around us. On a normal day, we would have brewed countless cups of tea, talked endlessly, laughed and cooked up enough food to feed our small army over the fire pit. This loss of connection with nature and each other, and the loss of purpose volunteering, growing your own food, or meeting your friends at the club provided, is felt deeply by us all.
Everything we do is founded on conversation, consultation and feedback.  Our response to this crisis was no different, we talked and listening to our community as this crisis unfolded, we learned first-hand what they needed, and used this to develop new and different ways to grow, play and learn together, while we are apart.
Our Urban Grow team are making sure the gardens remain productive food growing spaces. They are working remotely with plot holders, sowing seeds on their behalf, sharing photos and distributing 'Grow at home packs' filled with soil, seeds and tools to keep folk growing on window ledges, verandas or back closes.
We moved online, with group guided meditation sessions via zoom and upcoming crochet and craft sessions. Our play team went live. They are now delivering interactive challenges, house parties, discos, scavenger hunts and more 5 days a week on TikTok, Instagram, Facebook and Twitter. They have also produced brilliant at home challenge sheets for those who cannot access our online services.
For those not online, we offer 1-2-1 telephone relaxation sessions and weekly care calls. We are distributing Adult and Children's Activity wellbeing packs, filled with puzzles, arts supplies and craft activities. These are being delivered thanks to support from our community partners Young Peoples Futures. Possilpark's front line for emergency food provision and a life line for so many.
Every new week presents a new unknown. By keeping connected, and listening to what our community tell us they need, we will continue to be resilient and responsive in the face of COVID19.  Who knows what we will be doing in the next few weeks, we didn't imagine we would be doing all this just a few weeks ago!
We  miss everyone,  but are taking comfort from knowing that this will pass and when it's all over, we will reconnect in the Gardens and Play area and get back to doing what we all love, Growing, Playing and learning together.
(Update provided by Concrete Garden)