Lerwick Community Council responded to the crisis after securing £26,950 in grants, from the Scottish Government, via HIE, and from Corra. Early on in the crisis it became obvious that many people were struggling with the isolation, especially compared with people who were able to stay in touch with family and friends via video conference technology. This problem affected all ages; the elderly in particular, but also many young people.
Lerwick Community Council spent nearly 50% of the grant on the purchase of 60 4G enabled tablets that could be issued to people regardless of whether they had access to Wi-Fi.  It was important to ensure that people who were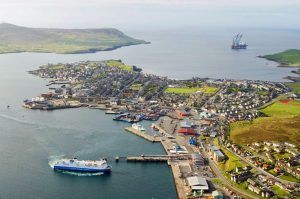 unfamiliar with using a tablet had access to technical support. 40 of the tablets were issued to young people via their primary schools, which meant that their teachers could provide support. The other 20 tablets went to people identified by care providers and senior citizen's groups which meant that there was support for all, and confidentiality was maintained. A number of SIM cards along with £20 of data credit were issued with the tablets where the user did not have access to the internet.
Grants were also provided to local organisations including Shetland Women's Aid, Ability Shetland, Royal Voluntary Service, Moving On Employment Support services and to Shetland Bereavement Support Service. The Community Council liaised with Voluntary Action Shetland to produce an information leaflet which went out to every household in the town to inform people how to get support. The leaflet was delivered by volunteers from the Fire Service. The crisis has meant the Community Council is now holding its monthly meetings online, but the Members have speedily responded to all grant request and have managed to turnaround some requests for help within 48 hours.
As the crisis moves on to a different phase Lerwick Community Council anticipates organisations requesting help with the costs of returning to normal as there will be new requirements for PPE, hand sanitisers and social distancing measures.
(Update provided by Lerwick Community Council)