The cancellation of all public gatherings because of the Covid19 lockdown is a blow to all communities, including Duns and the surrounding area, both financially and socially, however it has brought out some real community spirit from a large team of volunteers in Duns who are supporting the community in these most difficult of times.
From the onset of lockdown AHFD generated ideas to support the community, particularly the most vulnerable, by recruiting volunteers to add to the other services available to respond to the crisis. AHFD membership was already around 350 people and within that included over 80 active volunteers.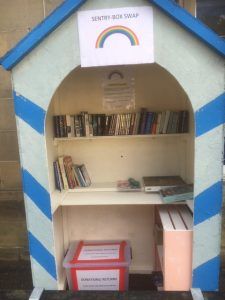 As time was critical and some people were confused and anxious, and events were moving fast we messaged all our members on 19 March and contacted local community groups. The results were heart-warming, and so many people responded immediately, and we now have the confidence to offer a series of services, including such simple things as collecting prescriptions and reassuring phone calls.
The other priority was to contact the most vulnerable people, many of whom were older members of the community without any communication access, such as social media and computers. We organised a leaflet drop of 1700 fliers within the Duns area on 20th March, providing advice on the help we could offer, how to contact us and emphasizing people were not alone at this time. We also included the procedure and contact details if they had symptoms and appealed for more volunteers.
On 20th March the Duns Community Action Group was formed and a social media site created to enable businesses, organisations and shops to share information with all sections of the community and provide advice about Covid-19, including disparate things such as how to look after your pets, your mental health, how to self-isolate, and ideas on activities for children and how to keep families active, healthy and happy. We also developed a local network of people who made up facemasks from a template, and who are activated from time to time to replenish supplies; a VE Day celebration focused on younger people being creative and designing flowers; and a book swap, which developed into a swapping pace for other items, and used a sentry box constructed as a stage prop in the previous year to put the books and other items on display outside the hall.
We also dealt with numerous individual requests for help, which by its nature is on-going, for however long it takes. One by-product was volunteers and helpers building relationships and friendships, and as in so many places across the nation, people are coming together as a community.  The help takes many forms: helping families who have elderly relatives in Duns when the rest of their family live further away; people in hospital who need help with their laundry; or the self-isolating elderly lady who needed help to put together a new vacuum cleaner.
At this time there are many stories of how people have come together to make a difference and how local organisations like A Heart for Duns with local knowledge and access to a network of local people can provide the support and facilities to make this happen. Long may it continue.
Contact: Emma McDevitt on 01361 884935 or admin@aheartforduns.org
Duns Community Action Group Facebook page is https://www.facebook.com/DunsCommunityaction
(Update provided by A Heart for Duns)