The nature and impacts of the COVID 19 crisis are exposing deep underlying fragilities in our economic and social systems. At the same time, as evidenced in SURF's series of special bulletins, many under resourced communities and their organisations have responded very impressively to meeting immediate local challenges. Policy makers are increasingly interested in how it might be possible to sustain raised levels of collaborative community action, in a way that could rebalance local regeneration power, resources and decision making. 
SURF is using its community focused, cross sector role and networks to better inform those considerations. One aspect of SURF's broader contribution to building back better is a series of articles here in the SURF Journal.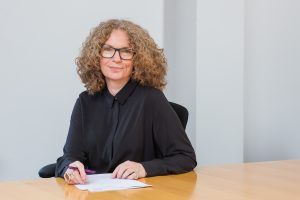 Kate is a third sector leader who has trained in fine art. She has worked for arts organisations across Northern Ireland and Scotland since 1990.
Currently Kate is the Director of North Edinburgh Arts, which provides opportunities for individual and community development through contact with the professional arts. The organisation is active in the local regeneration process, advocating the role of the artist and creativity as positive forces within the dynamic of a community in flux.
Alongside chairing Scotland's Regeneration Forum (SURF) she sits on the Board of Tinderbox Orchestra and North Edinburgh Childcare. In August 2019 Kate was appointed as Convener of the Citizens' Assembly of Scotland.
Kate's current leading roles in both national and local agencies provide her with both reality based experience and a national overview – providing an ideally broad frame of reference from which to offer this perspective.
Rocking the Boat
Stormy seas have been a recurring metaphor for describing the Coronavirus pandemic, with many having to weather the storms on borrowed rafts and leaky buckets whilst others glide by in well-appointed and long owned cruisers. The current situation undoubtedly presents us with a uniquely collective experience in that we are, almost globally, being asked to adhere to the same rules. But this experience is also overwhelmingly dictated by individual circumstances, magnifying for all to see, even if they'd been able to ignore it before, the differences between the haves and their near neighbours the have-nots and drawing unavoidable attention to the shocking fragility of the existence of many across our country, and the services in place to support them.
This crisis, like the financial crash in the previous decade, has been delegated to the least resourced. The stark reality is that not only are people living in poverty dying in greater numbers, but that their lack of resources to hand on an average day has been massively amplified in these very un-average of days. The chronic deprivation that has become somehow invisible to many across the last decade is now acute, as the zero hours contracts, in-work hardship, universal credit and related bureaucratic systems haven't been able to cope with this massive collective shock. Times are difficult for everyone; having to stay away from friends and family isn't easy, but the impact of the lockdown is heaviest on the least resourced; no garden, no income, no food, no wifi, no network, no hope.
In response to this North Edinburgh Arts was one of a dozen Charity and community groups in the North of the city who joined forces to deliver over 11,000 free, healthy meals, toiletries and cleaning supplies to vulnerable individuals and families during four weeks of lockdown.  The group quickly established a collaborative framework and is working towards delivering up to 15,000 meals each week, thanks to support from funders, donors, volunteers and members of the public. With a phone line launched to handle requests for assistance the local intelligence shared by the partners was able to make contact, assess need, and get the right resources to the right place, quickly and with dignity.
Our story has been replicated across the country with the hyper-local agencies adapting services, making connections and averting crises. These local networks aren't uniform, replicable or easily mapped but their human scale is just what's needed right now, and is proving incredibly effective.
In the same way that we aren't facing one national pandemic, rather multiple local outbreaks, the best response has sprung from multiple local networks, as messy and imperfect as that can be. SURF has been recording hundreds of stories of this kind, happening all over the country, building up an invaluable resource from which to learn when that time comes. How and why has the local been so quick and nimble, and how can we build a framework to support the outpouring of neighbourliness and kindness?
And stormy as the metaphorical seas have been they have been matched by frenetic airwaves. Certainly at the outset of the pandemic, it felt like information overload, a bit of panic, with a lot of noise and bluster to assimilate during those early upended days. Perhaps when no one really knows what was (is?) going on, or what is going to happen next, it can be comforting to be transmitting rather than receiving. As the dust settles a bit, uncertain as times still are, amongst all the blogs, podcasts, webinars, briefings, and zoom chats three voices have really stuck with me; allowing me to ponder the future/structural whilst I've been organising the now/practical:
On Radio 4 on the morning of 7th May Mariana Mazzucato, Professor in the Economics of Innovation & Public Value at University College London talked about the choices that led to many of our current travails. She pinpointed a consumption led economy, as opposed to investment led, as one of the reasons the situation is so dire. The choices made in the 'good' times made things precarious for many then, and more so now. We know that inequalities are bad for your health, individually and collectively, and have done for years. Inequalities have amplified the difficulties for many living through the virus; areas of highest deprivation experiencing the highest infections and death rates, and we must not allow them to deepen as we work our way out of the covid-19.
Dr. Katherine Trebeck, Advocacy and Influencing Lead with the Wellbeing Economy Alliance, concurred that longstanding inequalities have helped foster the spread of the virus, in discussion on an RSA webinar last week. She said there were no easy answers, and neither should we be settling for soundbite solutions, but that we must now make the economy work for humanity as we renew our systems post pandemic. The crisis had opened new space for what would be politically feasible and palatable, and the conversation must not be about recovering an old economic model, one that clearly didn't work for all.
And Dr Margaret Heffernan, Professor of Practice at the University of Bath, during a webinar organised by the Geary Institute, University College Dublin, at the end of last month, talked about the need for a legitimate settlement from this crisis, unlike 2008 when the least resourced bore the weight of recovery. A wide range of voices need to be heard too in this complex and acute crisis; as 'social problems require social processes' with cross-sectoral discussion required to assess who, or what, takes priority post COVID. The process of prioritisation needs to be comprehensively and collectively agreed, particularly when the money is tighter and everyone feels they ought to be first in the queue. The process needs to be seen as fair, particularly as the outcomes are going to be tough on us all.
These voices are refreshing, inspiring and challenging. In our understandable rush to get back to the comfort of the usual, we can't let complacency creep back in. The before just wasn't good enough for very many. I am hopeful we can use this time of enforced change to really upset the 'it's always done that way' mind set, to better make the hard choices that will protect those at the edge when moving out of this situation. The small scale, the local, the personal, the connected, and the imperfect have seen us through these immediate challenges. If now is not the time to fully interrogate the structural, national and supranational to ensure they work to nurture those assets better in the long term, when is?
This is the first of several themed reviews of the way in which the COVID19 crisis is exacerbating inequalities. SURF's unique position as Scotland's regeneration forum allows us to access the views of frontline workers, academics, policymakers, politicians and those people living and working in the communities which are being hardest hit.   Our intention is not to only record the damage that is being caused – or to rejoice in the innovative and collective creativity of those who have stepped up to meet the challenges. We also want to present ideas and processes which will encourage debate about how our many national and local partner organisations should support and sustain the most effective of these responses to collaboratively build back better.
Among the themes that will be explored in future postings will be the Digital Divide, Tenancy Protection, Urban Planning, Food Poverty, School Safety Nets, and the particular impacts on the elderly, asylum seekers and our B.A.M.E. communities.
SURF welcomes all feedback and suggestions for future areas you would like to see covered. Please email Elaine Cooper at Elaine@surf-old.local.